Anton Du Beke: 'Ruth Langsford and I are Strictly husband and wife!'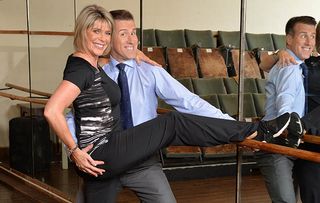 (Image credit: RICHARD KENDAL)
Anton Du Beke and Ruth Langsford reveal why they're Strictly Come Dancing husband and wife, while Ruth says she feels like she's in Fame! (Main image: Richard Kendal)
Anton Du Beke has revealed to TV Times that he feels that he and dance partner Ruth Langsford are Strictly Come Dancing husband and wife.
Here is Anton Du Beke and Ruth Langsford's TV Times interview about their Strictly Come Dancing experience.
TV Times: How are you finding training?
Ruth Langsford: "I'm loving it; I feel like I'm in an episode of Fame! We come to these training rooms and there are people in ballet rehearsals or auditioning for musicals, which is thrilling. As you get nearer to show day the reality of the live performance starts to set in and you get nervous, but the training itself is very enjoyable. Anton's such good fun and very kind – he lets me have a cup of tea before we start dancing and we always share a slice of cake!"
Anton Du Beke: "Ruth is brilliant, gorgeous and she laughs at all my gags so frankly I'm happy with that – the steps are just a bonus. What's great is that Ruth has always been a big fan of Strictly."
TVT Anton, what's your approach when you start training a new Strictly partner?
Anton: "I try to find out as much about them as possible – you become Strictly husband and wife. It's important that I learn certain things straight away, like when my partner prefers to train – does she prefer mornings or evenings? Does she need a coffee first? Or something to eat?"
Ruth: "Always, you've got to feed me!"
Anton: "I try to weigh all of these things up – there's no point battling against Ruth and what suits her. My aim is just to get the most out of her."
Ruth: "He's brilliant at picking up on my emotions. One day I was really struggling with the steps, it wasn't funny any more. I'd said for years I wanted to do Strictly and suddenly I was panicking that I'd bitten off more than I could chew. I could feel those little prickly tears behind my eyes and I knew next time I went wrong I was going to cry. He spotted that, and then said he wanted a break for a cuppa – I was so grateful. Then I calmed down and we went back to the dance…"
TVT: Ruth, how do you find time to train for Strictly alongside your presenting commitments?
Ruth: "It's true I don't have nearly as many hours as I'd like to train, so we work hard and cram a lot in. I do have a lot of work on at the moment, but however tired I might be or if I'm struggling with steps, I constantly remind myself that there are millions of women my age who would love to be doing Strictly, swept around the floor by the ballroom king Anton Du Beke. So I have to do it for them – no moaning or complaining, it's a once in a lifetime opportunity. That's why I said yes to the show, I was scared they'd never ask me again and I would become a bitter old woman wondering what I'd missed out on!"
TVT: You made no secret of the fact you wanted Anton as your partner. Has he lived up to expectations?
Ruth: "He's everything I expected and more. Whenever I used to see him at awards shows or on red carpets he'd give me a spin and say, 'You and me next year!' but they never asked me until now. We laugh so much in training." We're quite rude, we can't tell you any of the things we chat about. We have to be careful to remember when we have microphones on...."
TVT: Week one you finished bottom of the leaderboard. Did your nerves get the better of you?
Ruth: "I've never had nerves like that in 30 years of live television; it was sheer terror. I was frozen and it felt like someone had cemented my feet to the stage, Anton had to take me away so I couldn't watch the other couples. Eamonn blew me a kiss before we went on and I couldn't smile back at him. Midway through the show I told Anton I'd forgotten the dance and he said, 'Ruth, you've never really known it!' [laughs] Once we'd started he kept saying, 'Just smile and I'll carry you round!'"
Anton: "The waltz is really difficult – everyone thinks they can do it but they can't. It's slow and it can feel a bit samey when you're doing it."
So do you see lots of room for improvement, now the initial nerves are out the way?
Anton: "Definitely. Ruthie has great potential to be a super ballroom dancer. I think ballroom suits her because she's so graceful and has a lovely line. She's got a great personality and a natural aura about her, so if we choreograph it well I think she could be an absolute winner."
Get the What to Watch Newsletter
The latest updates, reviews and unmissable series to watch and more!