Autumnwatch host Chris Packham scoffs at Bear Grylls' claim wildlife shows are 'too dry'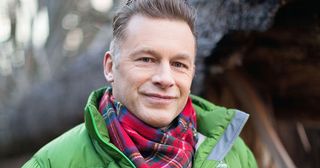 Wildlife presenter Chris Packham rejected Bear Grylls' claims that natural history programmes are 'too dry' and defended his hero Sir David Attenborough
Autumnwatch presenter Chris Packham has hit back at Bear Grylls, following the adventurer's claim that modern wildlife programmes are too boring.
Bear made a bid to liven up natural history television last year with his ITV series Britain's Biggest Adventures, in which he explored bat lofts in Wales and searched for seal colonies in a canoe.
The daredevil also took aim at legendary wildlife presenter Sir David Attenborough and said that while he had immense respect for the TV legend, his natural history shows were 'a bit dry'.
"Young people now need a bit of adventure to inspire them," said Grylls last year.
Yet Chris Packham, who will be presenting the new series of BBC1's wildlife show Autumnwatch with Michaela Strachan and Martin Hughes-Games from RSPB Arne in Dorset this week, scoffed at Bear's criticism.
"Did he say that?" asked Packham incredulously. "He wants to come round and visit my caravan on Springwatch because there's quite a lot of excitement going on in there!
"New technology is allowing us to find out more about animals than ever before," he continued. "We're gathering so much new information about them that they're evolving in our life times. What's more exciting than that Bear?"
Chris also expressed some sympathy for Sir David Attenborough, after he was beaten by the name 'Boaty McBoatface' in a public poll to find a name for a new £200m polar research ship.
Despite Boaty McBoatface winning the vote, the vessel was eventually named after the iconic wildlife presenter.
"Poor old David," said Chris. "Everyone's always going to call it Boaty McBoatface!"
Autumnwatch premieres at 8pm on Monday, October 24 and runs for four days until Thursday on BBC2.
Get the latest updates, reviews and unmissable series to watch and more!
Thank you for signing up to Whattowatch. You will receive a verification email shortly.
There was a problem. Please refresh the page and try again.