Bear Grylls: 'Drinking wee? There are worse things!'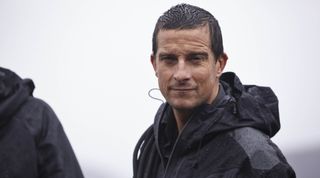 Bear Grylls has become known for his willingness to drink his own urine on his expeditions, but the survival expert has admitted he doesn't really mind the reputation.
On the eve of a new series of Bear Grylls: Mission Survive, he told Digital Spy: "There are worse things to be known for!"
Bear Grylls (betty/ITV)
In the series, Bear challenges the seven celebrities taking part to drink their wee – and the survival expert joins in too.
He explained: "The thing is, every challenge we do on Mission Survive is driven by real-life survival stories. There are a ton of stories about people surviving by drinking their own pee.
"But also it tells me how much people really want it… I'm looking for how people respond to their struggles, their doubts, their stuff.
Celebrity contestants on Bear Grylls: Mission Survive (betty/ITV)
"So I don't mind throwing a bit of that stuff in early on – and it's fun."
A long-standing meme on social media pokes fun at Bear for happily resorting to drinking urine to prevent dehydration.
Steve's watching the Bear Grylls island thing on Channel 4. Half an hour in and no-one's drunk any piss yet… pic.twitter.com/P7kYSg9fzb
— Eleanor (@magicalbassoon) April 8, 2015
The seven celebrities to sign up for season two of Mission Survive – this time in the wilds of southern Africa – are Alex Scott, Chelsee Healey, Jason Gardiner, Michelle Collins, Neil Morrissey, Samantha Barks and Stuart Pearce.
The celebrities taking part in Bear Grylls: Mission Survive (betty/ITV)
"It's probably one of the toughest series I've ever done involving celebrities – dynamic, tough terrain; mega hot days, 40-plus degrees; storms; crossing rivers; climbing cliffs; very limited rations," Bear said.
"Whereas before we gave them much more to start with, it was a gradual easing into it, now we've hit them hard from the get go."
Bear Grylls: Mission Survive returns tomorrow (3 March) at 9.00pm on ITV
Get the latest updates, reviews and unmissable series to watch and more!
Thank you for signing up to Whattowatch. You will receive a verification email shortly.
There was a problem. Please refresh the page and try again.