Benidorm: 'It's a very sad time,' says Steve Pemberton of the Garvey family departure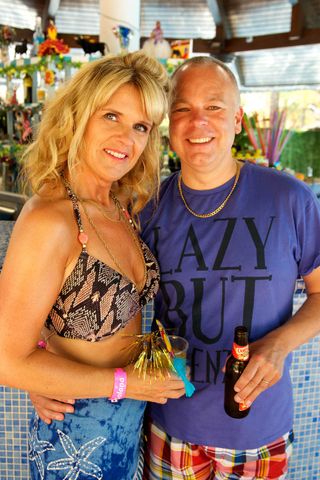 Steve Pemberton has said he left Benidorm because he missed his family while shooting the comedy away in Spain.
The actor, who recently appeared in Happy Valley, has played patriarch Mick Garvey on the ITV comedy since it began in 2007, and will make his exit during the seventh series, along with his screen family - wife Janice (Siobhan Finneran (opens in new tab), who also starred in Happy Valley), mother-in-law Madge (Sheila Reid (opens in new tab)), daughter Chantelle (Hannah Hobley (opens in new tab)) and son Michael (Oliver Stokes (opens in new tab)).
"It's a long time to be away from home - it's three months away from the family - so that was a big part in deciding to move on," says Steve. (opens in new tab)
The Garvey family have already shot their final scenes.
"We've left Benidorm. We filmed our scenes early on this year so we're going to be in the first episode or two of the new series, but then the whole Garvey family are leaving," Steve explained.
"It's a very sad time, really, but I felt the time was right for us to move on and do different things. And I'm sure the show will go on from strength to strength.
"It's a phenomenon. To do seven series is extraordinary and to have such a big following, but for us - the Garvey family - we all felt it was time to move on and do other things," he continued.
The seventh series of Benidorm (opens in new tab), which sees returning cast members Elsie Kelly (opens in new tab), Crissy Rock (opens in new tab) and Johnny Vegas (opens in new tab), will air on ITV in 2015.
– Press Association (opens in new tab)
Get the latest updates, reviews and unmissable series to watch and more!
Thank you for signing up to Whattowatch. You will receive a verification email shortly.
There was a problem. Please refresh the page and try again.