Benidorm wedding disaster! Sherrie Hewson and John Challis on Joyce and Monty's big day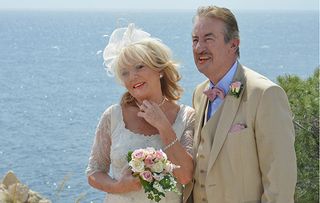 (Image credit: ITV / Tiger Aspect)
Will Joyce and Monty tie the knot as Benidorm returns on Wednesday 28th February on ITV at 9.00pm
Not only is Benidorm back for a 10th-anniversary series, but there's also a much-anticipated wedding in the opening episode for loved-up characters, the Solana resort's long-suffering manager, Joyce Temple-Savage (played by Sherrie Hewson), and loveable conman Monty Staines (John Challis).
But in true Benidorm style, their big day doesn't go without a hitch…
Here Sherrie Hewson, 67, and John Challis, 75, tell us all about the wedding and why Benidorm is better than ever…
What a lovely way to kick off the 10th series, but will Joyce and Monty finally say 'I do'?
John: "Well, it all goes a bit wrong for Monty of course, but he does his best. He always tries hard, doesn't he?"
Sherrie: "I loved this episode because we spent five days filming on an island off Benidorm. However, it's quite a traumatic wedding day for Joyce because she's sick over the side of the boat on the way, and there are a lot of ill seagulls on the island so she gets pooed on!"
Poor Joyce also gets a roasting from Mateo in his best man's speech!
Sherrie: Mateo's speech is the highlight of the episode for me. He's read things on the internet and thinks it's what you should say at a wedding. He calls Joyce all sorts of names, but believes it's British humour. We couldn't do the scene for laughing!"
Will Monty become embroiled in more dodgy dealings this series?
Sherrie: "The trouble is Monty's a wheeler-dealer and that means he's going to come unstuck at some point. His relationship with entertainer Sammy Valentino [Shane Richie] certainly lands him in trouble."
John: "Yes, Monty's still a sucker, and he has a lot of scenes with Sammy. It's wonderful stuff."
Former Spandau Ballet frontman Tony Hadley is booked to sing at the wedding, but which other guest stars can we expect to see?
Sherrie: "Tony is the sweetest man and he loved being in Benidorm. We've also got Nigel Havers back as manic dentist Stanley Keen, and Shane Richie becomes a regular as Sammy, who really is psychotic!"
John: "Frankie Goes to Hollywood singer Holly Johnson turns up, as well as the Chuckle Brothers and Hale and Pace. But because Monty is always talking about almost signing pop group T'Pau in the 80s, we have singer Carol Decker on the show. It's a brilliant moment! One of the great things about being on this show is that we get to meet our heroes. We're just as starstruck as anybody else!"
Ten years is such an achievement! What's the secret to Benidorm's success?
John: "I find a lot of similarities to Only Fools and Horses in terms of how the public views the show. There's a great love for it, and that's testament to the writing.
Sherrie: "Derren Litten is wonderful at writing new characters, too, so the show keeps evolving. It feels like it's a new Benidorm. After 10 years, that's quite a feat!"
Benidorm returns on Wednesday 28th February on ITV at 9.00pm.
Get the latest updates, reviews and unmissable series to watch and more!
Thank you for signing up to Whattowatch. You will receive a verification email shortly.
There was a problem. Please refresh the page and try again.