Biggles: Aventures in Time (1986) | The enjoyable British fantasy gets a remastered HD release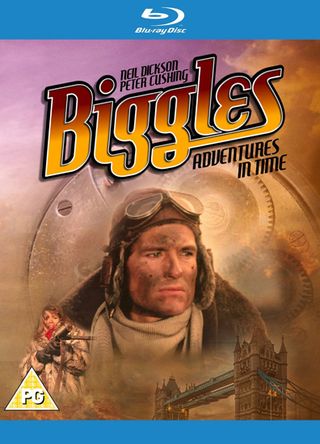 From OEG Classic Movies, comes a re-mastered and restored print on Blu-ray and DVD of the 1986 fantasy adventure, Biggles: Adventures in Time.
Based on WE Johns' much-loved adventure stories, this British-made fantasy was a valiant attempt at bringing the RFC flying ace hero to a new generation, but with an in vogue sci-fi twist.
Manhattan entrepreneur Jim Ferguson (Alex Hyde-White) is dragged back in time to the trenches of Western Front in 1917. There he meets his 'time-twin', flying ace James 'Biggles' Bigglesworth (Neil Dickson). Together, the two men embark on a mission to destroy the German's deadly new sound weapon and defeat dastardly Hun, Eric von Stalhein (Marcus Gilbert).
Featuring music from Deep Purple, Motley Cru and Jon Anderson from Yes, and the legendary Peter Cushing – in his final film role – this is enjoyable Saturday matinee fare.
The HD restoration is a pleasure to watch and so pristine that you can see the breath of the actors (the film was shot in winter), which is a far cry from previous DVD releases. A restored trailer is included as the only extra.
READ MORE... (opens in new tab)
Get the latest updates, reviews and unmissable series to watch and more!
Thank you for signing up to Whattowatch. You will receive a verification email shortly.
There was a problem. Please refresh the page and try again.