Jason Manford: 'Brucie's are big shoes to fill, but he's in my head when I'm doing Bigheads'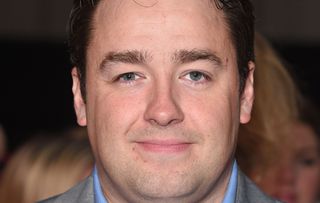 (Image credit: David Fisher/REX/Shutterstock)
Jason Manford on his quirky new game show which sees contestants compete in a range of spectacular games while wearing giant celebrity heads
It's A Knockout meets Spitting Image for Jason Manford's colourful new game show Bigheads. Each episode of the ITV series sees eight members of the public compete to win £10,000 by going up against each other in a variety of hilarious high-octane physical games while wearing the massive rubber heads of a range of celebrities from will.i.am to Winston Churchill.
TV Times caught up with Jason, 35, to tell us more…
How would you sum up Bigheads? "You need to see it to believe it! It's the fast-paced game show where contestants play spectacular games while running around inside massive celebrity heads getting hit on the bonce by giant microphones. It is just funny and silly and you can have a laugh watching people falling over for an hour – that never gets boring."
The celebrity heads are really reminiscent of Spitting Image, which are your favourites? "We had Posh and Becks going up against each other in a game and also Becks versus Benedict Cumberbatch – a real meeting of minds. We also have Camilla and Charles, Einstein and Marilyn Monroe and Vladimir Putin and Donald Trump, who gets booed every time he comes on. One poor guy inside was saying, 'I haven't done anything wrong! I don't want to build a wall.' I'm hoping someone sends the real Donald the clip of him getting hit on the head with a huge mic and then he starts tweeting about it!"
Are there any other celebrities you'd like to see turned into a Bighead? "I would like a Samuel L Jackson head and I'd love to see some of my comedy mates as Bigheads, like Michael McIntyre, Peter Kay, John Bishop and James Corden. We've got a Russell Brand one already."
All the games are themed around celebrity events from parties to premieres, which is the funniest? "The champagne game is a good one. There is a massive bottle pouring out champagne and bubbles and the contestants have to go on a spinning dance floor with a little glass and catch it and pour it into a giant glass at the side. They got really competitive."
Did you have a go at the games? "No! They are harder than they look. I did hop on the travelator that features in some of them and I have a phone full of pictures of me and my kids with the heads on. They loved the Taylor Swift one and they liked will.i.am and the historical ones that they know from school like Henry VIII. My dad came down as well to watch the show and both he and my daughters were really laughing at it – it's a dream to have a show that a 60-year-old and a seven-year-old both like."
Are you keen to do more shows that your kids can watch? "Yes, because my eldest kids are only seven, so there is no point me being on Live At the Apollo because they don't really get to see that, so I've been trying to do things they can enjoy and talk to their friends about. I was even on Twirlywoos last week on CBeebies – it's not quite Tom Hardy doing Bedtime Stories though! One of my daughters recently said, 'You're not like other daddies are you?' I took that as a compliment!"
Does Bigheads remind you of the shows you used to watch as a kid yourself? "Yes, things like It's A Knockout and Gladiators, but The Generation Game was my favourite. Brucie was the presenter I'd always warm to as a youngster, they are big shoes to fill but he's always in my head when I am doing a show like this. I was trying to get a few Brucie catchphrases in this!"
After doing Ordinary Lies in 2015, would you like to do more acting? "Absolutely. I am sure there would have been the odd person going, 'I can't take him seriously.' But it was such a brilliant series and Max Beesley, Jo Joyner, Sally Lindsay, Michelle Keegan and I got on so well and that showed on screen. They went in a different direction for series two with a brand new cast, which we were gutted about. I'd love to do more acting though, because if someone doesn't like you, you can blame the character or the writer or the director. If I'm just being Jason Manford, I have nowhere to hide!"
Bigheads begins on Sunday, April 23 at 7pm on ITV
Get the What to Watch Newsletter
The latest updates, reviews and unmissable series to watch and more!
Caren has been a journalist specializing in TV for almost two decades and is a Senior Features Writer for TV Times, TV & Satellite Week and What's On TV magazines and she also writes for What to Watch.
Over the years, she has spent many a day in a muddy field or an on-set catering bus chatting to numerous stars on location including the likes of Olivia Colman, David Tennant, Suranne Jones, Jamie Dornan, Dame Judi Dench and Sir Derek Jacobi as well as Hollywood actors such as Glenn Close and Kiefer Sutherland.
Caren will happily sit down and watch any kind of telly (well, maybe not sci-fi!), but she particularly loves period dramas like Call the Midwife, Downton Abbey and The Crown and she's also a big fan of juicy crime thrillers from Line of Duty to Poirot.
In her spare time, Caren enjoys going to the cinema and theatre or curling up with a good book.