Bill Turnbull: 'Sometimes I go to the garden and shout at my cancer'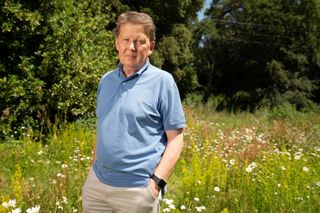 Bill Turnbull on why he wanted to make a documentary about his battle with prostate cancer
For someone who's taking a cocktail of cancer drugs and undergoing regular invasive treatments, Bill Turnbull looks remarkably well and is infectiously upbeat when we meet him at C4's headquarters in central London.
The ex-BBC Breakfast host was diagnosed with incurable prostate cancer in November 2017, ironically just days after he'd finished filming The Great Celebrity Bake Off for Stand Up to Cancer. By then, it had spread to his bones and his consultant told him he had around 10 years left to live.
Not wanting to leave behind his beloved wife Sesi and their three grown-up children, Henry, Will, and Flora, the former Strictly Come Dancing contestant has become a vegetarian, given up alcohol and sugar, and has even tried medical cannabis in the hope of prolonging his life or even a cure – all of which is documented in his unflinchingly brave new programme, Bill Turnbull: Staying Alive.
In fact, it's only when talking about his family during our interview that Bill understandably falters.
"Telling my children I had cancer was one of the worst things," says Bill, 63. "Sorry, I still well up talking about it, but it was very upsetting. You can't protect the children, you see, and you always want to protect them."
Here, Bill Turnbull tells us why he hopes his story might help others…
The programme is extremely personal. Why did you decide to do it?
Bill Turnbull: "A few years ago, cancer was a subject that nobody ever wanted to talk about and I'm a big believer in shining a light on it. Cancer can put you in a lonely place sometimes, so I hope other people with cancer will see that they're not alone – we're all brothers and sisters in arms really."
Were you worried about showing the emotional, vulnerable side of yourself?
BT: "The film's certainly a bit of a blubathon! Viewers will be like, 'Is he crying again?' But when you've been on Strictly you've already let it all hang out big time! Also, if you're making a documentary you can't hide things. Cancer is an emotional business and crying is a very important thing to do when you're under this kind of stress. I do weep quite a lot some days and then the next day I'll be fine."
Can you remember back to the day of your diagnosis?
BT: "I'd had these aches and pains. But I just thought, 'It can't be that serious' and, like a lot of men, I had this aversion to going to the doctor. But my son, Will, kept saying, 'You really should get checked out', so partly to stop him nagging I went. You could have knocked me over with a feather when I got the diagnosis. I remember walking out in such shock; I couldn't really remember what the consultant had said."
You had nine rounds of chemotherapy, which must have been incredibly gruelling…
BT: "It was awful and I was very ill. After eight rounds I told my consultant I didn't want to do anymore, I didn't care. I did have the ninth round in the end, but it was tough. Chemo is always there as a back-up but I think you need time to recover, so I'm on this new treatment called Radium-223, which is as radioactive as it sounds and is meant to be effective in shrinking the tumours on the bone."
We see you trying medical cannabis – what was that like?
BT: "It gave me the giggles! Sesi had her reservations about it. She's much more law abiding than me and was concerned because I was doing something potentially illegal. I haven't carried on taking it, although if I got to a situation where all else has failed then I'd probably go for it. It's made me realise that as a country we need to have a much more grown up conversation about medicinal cannabis."
What other things have you found that help?
BT: "I do yoga and I've done a bit of meditation – just keeping your head straight is the most important thing. I also find work helps. It gives you something else to think about and you can push cancer to one side. I also think when you get diagnosed with any incurable disease you appreciate the moments you have. You think, 'This is another day and I'm going to live it properly'."
Your former BBC colleagues Sian Williams and Nick Robinson, who have both had cancer, also feature in the documentary. Do they give you a lot of support?
BT: "We talk a lot, yeah. I see Nick a lot, although we don't talk about cancer actually. Sian's down in Sussex and I'm in Suffolk so we don't see each other often but she gets in touch from time to time and it's great when she does."
Do you have any dark times when you think about the future?
BT: "I've reached an arrangement with myself about death – and it may change when it gets closer – but for the time being I'm okay. Sometimes I go down to the bottom of the garden and I shout at my cancer and tell it to get stuffed. I say, 'Not today, you're just not having me today.'"
Prostate cancer: The symptoms
In the UK, around 1 in 8 men will get prostate cancer in their lifetime. It mainly affects men over 50, and the risk increases with age. The risk is higher for black men and men with a family history of prostate cancer. Here are some of the possible signs…
* Difficulty starting to urinate or emptying your bladder
* Needing to urinate more often than usual, especially at night
* Needing to rush to the toilet
* A weak flow when you urinate
* A feeling that your bladder hasn't emptied properly
* Dribbling urine after you finish urinating
* Back pain, hip pain, or pelvis pain
* Blood in the urine or semen
* A weak flow
* Erection problems
* Unexplained weight loss
For more information, please visit:
https://www.cancerresearchuk.org/about-cancer/prostate-cancer (opens in new tab)
By HANNAH DAVIES (opens in new tab)
Bill Turnbull: Staying Alive airs on C4 on Thursday 24th October.
Get the What to Watch Newsletter
The latest updates, reviews and unmissable series to watch and more!
Writer for TV Times, What's On TV, TV & Satellite Week and What To Watch
With twenty years of experience as an entertainment journalist, Elaine writes for What's on TV, TV Times, TV & Satellite Week and (opens in new tab)www.whattowatch.com (opens in new tab) covering a variety of programs from gardening and wildlife to documentaries and drama.
As well as active involvement in the WTW family's social media accounts, she has been known to get chatty on the red carpet and wander into the odd podcast.
After a day of previewing TV, writing about TV and interviewing TV stars, Elaine likes nothing than to relax… by watching TV.