10 controversies that rocked the Olympics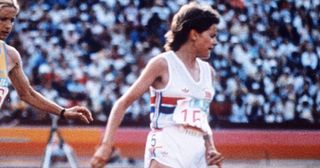 The Olympic Games isn't just about glory, it's also about the sporting heroism and, of course, the controversies. None has raged harder than Zola Budd's trip on Mary Decker in the 1984 LA games, the subject of new Sky Atlantic film The Fall
The Olympic Games isn't just about glory, it's also about the sporting heroics and, of course, the controversies. None has raged harder than Zola Budd's trip on Mary Decker in the 1984 LA games, the subject of new Sky Atlantic film The Fall. But what are the Olympics' other great controversies?
1. Faster, stronger... sneakier
https://www.youtube.com/watch?v=8sKB8955n4U
Seoul 1988: Canadian Ben Johnson won the 100m final in a world record time of 9.79 seconds – but he was stripped of his medal after failing a drug test just 24hrs later.
2. What a racket
London 2012: China's badminton stars Yu Yang and Wang Xiaoli were disqualified from the London Olympics after deliberately trying to lose a match, to face easier contests at the elimination stage.
3. Podium Politics
Mexico City 1968: US sprinters Tommie Smith and John Carlos raised black gloved fists in silent protest while the national anthem was been played. They were banned for their political protest.
4. Low blow
Seoul 1988: South Korea boxer Park Si-Hun was pummelled by America's Roy Jones in 1988, with Jones landing 86 shots to Park's 32. Yet the judges awarded Park Si-Hun the gold because of Jones's low blows.
5. Long Shot
https://youtu.be/1dyoTkX7Ypc
Munich 1972: Three seconds of added time gave the Soviet Union's basketball players time to net a shock winner against America. It was the first time Team USA lost in the sport since the Olympics began.
6. Out of the Crowd
https://youtu.be/7OKzhQ0vBDo
Athens 2004: Brazilian Vanderlei de Lima was leading the marathon when a defrocked Irish priest intervened and off-roaded him four miles from the finish. Stefano Baldini won the marathon.
7. Bad Loser
https://www.youtube.com/watch?v=CecGsG_4yoc
Beijing 2008: Cuba's Angel Valodia Matos took his taekwondo disqualification badly – he kicked the judge in the face! Matos received a lifetime ban from the World Taekwondo Federation.
8. End of a dream
Los Angeles 1984: US distance runner Mary Decker's Olympic hopes were ended when she tangled with Great Britain's barefoot Zola Budd just after the halfway mark and she came crashing to the ground.
9. Tricky opponent
Montreal 1976: Soviet Union's modern pentathlete Boris Onischenko fenced with an épée wired to score a hit without touching an opponent in the 1976 summer Olympics!
10. Tarnished Gold
https://youtu.be/Qx_-DpRDwIs
Sydney 2000: US sprinter Marion Jones was the golden girl of the Sydney Games. She won three gold medals and two bronze medals at the 2000 Summer Olympics, but was later stripped of the titles after admitting to steroid use.
Watch The Fall: Decker vs Budd on Sky Atlantic, Friday, July 29 at 9pm and in selected cinemas from the same day
Get the What to Watch Newsletter
The latest updates, reviews and unmissable series to watch and more!