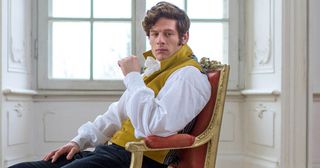 (Image credit: BBC/Mitch Jenkins)
From King Henry VIII to Mr Darcy and War and Peace's Andrei Bolkonsky we take a look at TV's hottest historical stars..
James Norton (above) – War and Peace BBC1's lavish 2016 adaptation of Tolstoy's great Russian novel swept us away with its grandeur and lavish costumes. At the heart of it was James Norton as the gallant Andrei Bolkonsky, a man of honour searching for a purpose... Equally at home in the ballroom or on the battleground, Andrei was our ideal of historical handsomeness.
Colin Firth – Pride And Prejudice
In 1995 Pride And Prejudice hit our TV screens with a six-part BBC adaptation of Jane Austen's 1813 novel, which featured Colin Firth in THAT dripping white shirt! We've not been able to look at a country pond without longing since...
Aidan Turner – Poldark
In 2015, the BBC rebooted the classic 1975 drama series, Poldark. Charming mine-owner Ross Poldark and his brooding good looks caused a furore when he went topless to harvest his crops. Who wouldn't want to roll in the hay?
Jonathan Rhys Meyers – The Tudors
Set in the 16th century, this historical drama saw Jonathan Rhys Meyers portray a slim, sexy King Henry VIII when it ran on BBC2 from 2007-2010. They have taken licence with the King's infamous waistline, but who are we to demand historical accuracy when we have this to gaze at.
Tom Hardy – Wuthering Heights
From East End gangster to one of romantic literature's sexiest brutes, a clean-shaven, Tom Hardy sizzled as Heathcliff in ITV's 2009 adaptation of Emily Bronte's novel...
Rupert Penry-Jones – Persuasion
Spooks star Rupert Penry-Jones donned breeches to portray Jane Austen's thwarted lover and romantic hero Captain Frederick Wentworth in ITV's 2010 adaptation... Clean-cut, dashing and desirable!!
Toby Stephens – Jane Eyre
Dame Maggie Smith's son Toby Stephens played Mr Rochester, Jane Eyre's mysterious, brooding object of lust in the BBC's 2006 adaptation of Charlotte Brontë's classic novel... He falls on desperate times but we, like Jane (Ruth Wilson), herself would overlook his bigamy for a bit of thingummy!
Douglas Booth – Great Expectations
From top model to Charles Dickens star, Douglas Booth played a teenage Pip in this 2011 BBC adaptation of Great Expectations. It won him a legion of new admirers... we can see why!
Ioan Gruffudd – Hornblower
ITV's adaptation of CS Forester's adventure novels starred Welsh Hollywood star Ioan Gruffudd in his first leading role as the fictional British navy hero, Horatio Hornblower. Officer class all the way...
Rufus Sewell – Middlemarch
The 1994 BBC adaptation of George Eliot's Middlemarch was set in a fictional town of the same name with the always intense Rufus Sewell playing the smouldering romantic hero, Will Ladislaw... The series reignited a passion for Victorian literature and turned Rufus into a heart-throb.
Get the latest updates, reviews and unmissable series to watch and more!
Thank you for signing up to Whattowatch. You will receive a verification email shortly.
There was a problem. Please refresh the page and try again.