10 Years Ago In The Soaps This Week: 23 September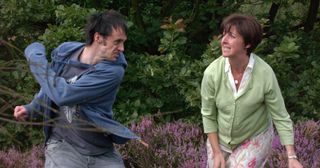 Remind yourself of all the soap drama that was happening in Coronation Street, Emmerdale, EastEnders and Hollyoaks 10 years ago this week!
In the soaps 10 years ago, Hayley Cropper (Julie Hesmondhalgh) came a cropper in Coronation Street, Stacey Slater (Lacey Turner) was hunting for a wedding dress in EastEnders, Carl King (Tom Lister) made a dramatic confession in Emmerdale, and Hannah Ashworth (Emma Rigby) ended up in hospital in Hollyoaks.
Coronation Street
Hayley Cropper, egged on by Roy, finally plucked up the courage to tell Christian Gatley (Andrew Turner) that she and his dad Harold were one and the same person. It didn't go well. Christian was disgusted and stormed off, and when Hayley followed to try to explain he lashed out and punched her and poor Hayley was left lying the mud with a bloody nose. When she got home to the cafe she blamed Roy, saying it was all his fault for wanting her to tell Christian the truth…
Bethany Platt came home from hospital, recovered after swallowing one of the ecstasy tablets David Platt (Jack P Shepherd) had hidden in her doll - and that was the cue for David to find himself out on his ear. His gran Audrey Roberts was the only one who had any time for him, giving him a roof over his head and letting him keep his job. The rest of his family couldn't stand the sight of him.
Tony Gordon (Gray O'Brien) arrived at Underworld and asked Carla Connor (Alison King) to join him for a drink to discuss business. When Liam Connor (Rob James-Collier) turned up he wasn't impressed to see his brother Paul's widow being chatted up by Tony and cracked a weak joke about there being more to it than business. Carla thought Liam's possessiveness was out of loyalty to Paul, but there was more to it than that…
EastEnders
Stacey Slater had mixed feelings about her upcoming wedding to Bradley Branning (Charlie Clements) - hardly surprising as she'd been sleeping with his dad, Max! Her hunt for a dress wasn't going well - her mum, Jean, wanted to make one for her and then Mo Harris produced a load of frightful Eighties frocks for her to try on. Next thing, to add to her woes, Bradley asked his dad to be Best Man! Bradley was devastated when his dad said 'No.' Stacey wasn't…
Shirley Carter (Linda Henry) was broke and desperately needed to lay her hands on some cash for the rent. Her landlord Norman suggested she sleep with him as payment and she made out she was going along with the idea. But as Norman lay in bed waiting for her, Shirley grabbed his clothes and chucked them out of the window and then made him go outside in his undies to retrieve them. She was desperate - but not that desperate!
Emmerdale
Debbie Dingle (Charley Webb) also needed cash and hit on the perfect way to get it - blackmailing Kelly Windsor (Adele Silva). She paid Kelly a visit and revealed her photo of Kelly kissing Eli Dingle, demanding £2,000 to keep quiet. Kelly handed over the money she'd got from Jimmy King for their wedding plans but Debbie still refused to delete the photos - and demanded respect from Kelly.
Carl King (Tom Lister) was playing with fire, having a passionate affair with Grace Barraclough (Glynis Barber), the cop who was investigating his dad Tom's murder. Grace asked Carl for help bringing in Tom's killer, saying she loved him and then they could be together. But Carl told Grace that he didn't love her, their affair had just been a bit of fun. Angry and hurt, Grace pleaded with Carl until he finally made a confession - HE was Tom's killer!
Hollyoaks
Hannah Ashworth's anorexia was a harrowing story and her family struggled to know how to deal with her illness. They tried to reason with her, warning her that she was killing herself, but Hannah was past caring and refused to listen. Eventually hospital was the only answer - Hannah was furious with her family, accusing them of betraying her. But they vowed to help her get better.
The boys were all dressed up and looking the bees' knees for the Freshers' Ball. But when Russ Owen (Stuart Manning) and Darren Osborne (Ashley Taylor Dawson) fell out after a few too many beers, they got into a dramatic fight and didn't care what happened to their posh dinner jackets!
Get the latest updates, reviews and unmissable series to watch and more!
Thank you for signing up to Whattowatch. You will receive a verification email shortly.
There was a problem. Please refresh the page and try again.