10 Years Ago in the Soaps: Week Beginning December 2nd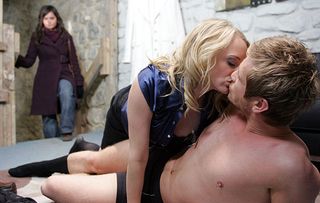 10 Years Ago in the Soaps... Remind yourself of all the soap drama that was happening in Corrie, Emmerdale, EastEnders and Hollyoaks 10 years ago this week!
Nicola (Nicola Wheeler) was caught out in Emmerdale, Liam (Rob-James Collier) proposed to Maria in Corrie, a big Mitchell family secret started to leak out in EastEnders and Tina (Leah Hackett) fought off a rapist in Hollyoaks - 10 Years Ago in the Soaps...
Emmerdale
Jasmine Thomas (Jenna Coleman) caught Nicola De Souza mixing sex with her dirty business and was furious! Nicola was at her ruthless best 10 years ago, when she was desperate for her comatose, much-older, very rich husband Donald to die so she could inherit. But Donald had decreed that if his son, Miles, could stay sober, he would inherit his wealth. So Nicola, along with David Metcalfe (Matthew Wolfenden), who had been promised a reward, made sure Miles got very drunk. David's ex, Jasmine was furious…and then doubly furious when she caught Nicola and David together, convinced that David had been cheating on her when they were together. Jasmine was quick to mix her revenge with her job as a journalist, and made Nicola's tricks headline news in the local paper. Nicola's name was mud in the village – and what she didn't know, yet, was that Donald was showing signs of life!
Ten years ago this week saw the departure from the village of Emily Kirk (Kate McGregor), Paddy's ex-wife. Her life in Emmerdale had been full of drama, including a nervous breakdown when she found out Paddy was cheating on her with Viv Hope, being branded a child-snatcher when she left with Debbie Dingle's daughter Sarah (Debbie had asked her to take her baby as she couldn't cope) and making a disastrous pass at vicar Ashley Thomas. Emily wasn't planning to go far from the Dales, though… She went to Manchester to become a vicar herself!
Coronation Street
Maria Sutherland (Samia Smith) had told boyfriend Liam Connor she was pregnant with his baby and told him she was going to have an abortion and neither felt ready for a baby. But Liam clearly wasn't sure they were making the right decision and stunned Maria by asking her to marry him and keep the baby. It was an enthusiastic 'yes' from Maria but a very unenthusiastic contratulations from Carla Connor, who secretly fancied her brother-in-law Liam.
Harry Mason (Jack Ellis, who had made his name playing villainous prison officer Jack Fenner in Bad Girls) and his son Dan (Matthew Crompton) arrived on Coronation Street this week 10 years ago, all set to take over the bookies. And Dan immediately started making himself known to the locals… First he told Lloyd Mullaney to clear up his gambling debt of £400, then he went to the Rovers and started chatting up Michelle Connor – which did not go down well with her boyfriend, Steve McDonald!
EastEnders
Steven Beale (Aaron Sidwell) was threatening to set himself on fire this time 10 years ago, which is ironic, really, as it was his involvement in torching Ian Beale's restaurant a couple of months ago that led to his death. He didn't plan to die then but, 10 years ago, he was very serious about taking his own life. Feeling rejected by his stepfather Ian, Steven broke into Phil Mitchell's garage, threw petrol all over himself and picked up a box of matches. But Stacey Slater (Lacey Turner) had seen Steven go into the garage and, curious, had followed him. Realising what he was about to do, she stopped him going any further and took the heat out of a very flammable situation!
One minute the Mitchell sisters were happily opening Ronnie's new club R&R, the next Ronnie (Sam Womack) is at Roxy's throat! Roxy taunted her when she discovered Ronnie had gone into business with Jack Branning, saying she was letting herself be used by a man. Roxy (Rita Simons) was angry Ronnie hadn't gone into business with her and Ronnie told her why: because she was sick of Roxy being "all over her life". Ronnie told Roxy she wanted something of her own and Roxy replied: "You had something of your own and look what happened there". That's when Ronnie took her down, saying "Don't ever say that to me again". That was the first hint that Ronnie had had a baby…
Hollyoaks
Unlucky in love Gilly Roach (Anthony Quinlan) was headed for more trouble of a romantic nature when he got close to Beth Clement (Sinead Moynihan) – he just didn't know it this week 10 years. It was their shared loved of Manchester City Football Club that drew Gilly and Beth together. But if Gilly had known that his mate Rhys Ashworth secretly fancied Beth he would have have steered clear. Why would he guess that, though, when Rhys and Beth were newly-discovered to be half-siblings – who had dated before they found?!
Tina Reilly (Leah Hackett) was being sexually harassed by her boss Pete Webster (Richard Cambridge) – and her husband Dominic wouldn't believe her! Instead, he befriended Pete and it was Russ Owen who saved her from being raped by Pete 10 years ago this week.
Getting no support from Dominic, Tina ended their marriage turned to Russ for support and they slept together.
Get the What to Watch Newsletter
The latest updates, reviews and unmissable series to watch and more!