10 Years Ago in the Soaps: Week Beginning October 14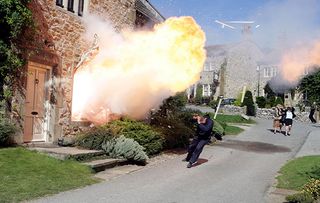 Remind yourself of all the soap drama that was happening in Emmerdale, Corrie, EastEnders and Hollyoaks 10 years ago this week!
There was a massive explosion in Emmerdale as Victoria Sugden (Isabel Hodgins) found out the truth about her mother's death… Wild child Rosie Webster (Helen Flanagan) set her sights on teacher John Stape in Corrie… Masood Ahmed (Nitin Ganatra) made his first appearance in Albert Square… And Warren Fox (Jamie Lomas) was in the marrying mood in Hollyoaks!
Emmerdale
There was explosive life-or-death drama in Emmerdale 10 years ago this week, when Victoria Sugden started asking awkward questions about the death of her mum, Sarah, and came to the conclusion that her father, Jack, had killed her. Burning with anger, Victoria decided she was going to torch the family home and threw petrol everywhere. Then her adoptive brother, Andy, confessed that he was responsible for Sarah's death. Victoria put her lighter away, but a faulty pilot light in the boiler ignited the petrol fumes and…BOOM! Victoria, Andy and Jack got out alive, then Andy confessed his crime to the police. But that didn't satisfy Victoria, who told the police that Andy also started the fire in the cottage!
Edna Birch (Shirley Stelfox) had her world rocked in Emmerdale when her estranged sister Lily Butterfield (played by former Neighbours star Anne Charleston) returned to the village. They had fallen out a year earlier, when Edna's dark secret was revealed: that her 'son' Peter was actually her nephew and that Lily was his real mother. Edna had raised him as she felt Lily was unfit as a mother. So they were not devoted sisters:
Coronation Street
Sarah Platt (Tina O'Brien) was having a meltdown this week 10 years ago, as her plans for her wedding to Jason Grimshaw (Ryan Thomas) started to fall apart. Furious with her brother, demon David, for inviting her ex, Todd Grimshaw, to the wedding, Sarah goes for David. But she's wearing her wedding dress and, as her mum Gail tries to hold her back, the dress rips. In tears, Sarah phones Jason at his stag party and races round to comfort her. But, instead, she explodes because now he's seen her dress before the big day! But they did get married – and Todd was best man! David's plan to wreck the wedding had failed.
Remember the whole John-Stape-kidnaps-Rosie-Webster drama? Well, it started 10 years ago this week, when Rosie threw herself at John (Graeme Hawley) and he took her in his arms, even though he was in a relationship with Fiz Brown. Rosie, then 16, had humiliated herself with her crush on her boss, Liam Connor and was in tears when John found her. She wanted John to make her feel desirable and he did – but he shouldn't have!
EastEnders
Look who made his first appearance in Albert Square on Otober 16 2007! Masood Ahmed was the new postman who always delivered…but not in a way that made Kevin Wicks (Phil Daniels) happy! As they had bumped into each other when Kevin left his house, Kevin wanted to take his post but Masood insisted on putting the items through his letterbox – and gave him a detailed explanation about why it had to be that way. Masood was a stickler for the rules in those early days but that changed…
Some things never change… Ten years ago, Ian Beale (Adam Woodyatt) was keeping vigil at Jane's bedside, much like he has been lately. And, again, Jane (Laurie Brett) was in hospital because of Steven Beale… He had shot Jane and her injuries meant she could never have children.
Hollyoaks
Killer Warren Fox had a love-hate relationship with Louise Summers (Roxanne McKee) which was in its love phase this week 10 years ago. This was despite Warren's sister Katy trying to tell Louise that Warren had killed her husband, Sean. Katy told Warren he had to confess but, instead, he proposed to Louise and she accepted.
Ste Hay (Kieron Richardson) has never been on good terms with Mike Barnes (Tony Hirst) and no wonder… Ste was the worst thing to happen to Mike's daughter Amy (Ashley Slanina-Davies) so Mike wasn't happy to see they were back together as a couple.
Mike showed Ste how angry he was by threatening and trying to throw him out of the flat him but Amy insisted on staying with Ste.
Get the latest updates, reviews and unmissable series to watch and more!
Thank you for signing up to Whattowatch. You will receive a verification email shortly.
There was a problem. Please refresh the page and try again.