10 Years Ago in the Soaps: Week Beginning September 2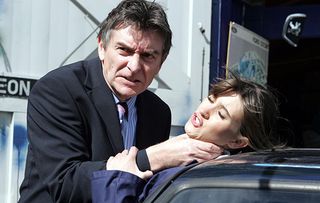 Remind yourself of all the soap drama that was happening in Corrie, Emmerdale, EastEnders and Hollyoaks 10 years ago this week!
In the soaps 10 years ago, Debbie Dingle (Charley Webb) was in danger in Emmerdale, it was lust at first sight for Sean Tully (Antony Cotton) in Corrie, Deano Wicks (Matt Di Angelo) was under arrest in EastEnders and Melissa Hurst (Carla Chases) was dead in Hollyoaks!
Emmerdale
Eli Dingle's bitter resentment of his brother Marlon's happier life exploded in a nail-biting fight at the top of a multi-storey car park which ended with Eli (Joe Gilgun) hanging over the edge and clinging on for dear life. It was Marlon who saved him – and later the same week, 10 years, ago, it was Eli who saved Debbie Dingle. She was in danger this time 10 years ago, after going on the rob went badly wrong… Debbie, her auntie Chas and their new BFF Lexi Nicholls stole a necklace. That was bad enough. Then Debbie decided to double-cross her fellow thieves by replacing the necklace with a fake and selling the original through Eric Pollard, splitting the profits with him. But jeweller Bruce (Malcolm Tomlinson) was on to her and Eli had to pull him off Debbie before he strangled her.
Emmerdale fans were introduced to Laurel Thomas's parents, Doug (Duncan Preston) and Hilary Potts (Paula Wilcox), in April 2007 and they returned in September to see their new grandson, Daniel… Laurel (Charlotte Bellamy) was pleased to see them, too – until her mum started telling her how to care for her baby. Their mother-daughter relationship took a battering – and tragedy was just around the corner…
Coronation Street
This time 10 years ago, Ashley Peacock (Steven Arnold) chose his wife Claire (Julia Haworth) over his crazy lover Casey Carswell (Zoe Henry) – but Casey wouldn't accept Ashley's rejection. She told Audrey Roberts they were getting married and then she snatched Claire and Ashley's baby boy, Freddie. Ashley tracked Casey to her flat, where she had locked herself on the balcony with Freddie and she told Ashley she would jump and take Freddie with her. Claire arrived and Casey forced Ashley to tell her they had slept together. Claire rescued Freddie and Casey was arrested… but it looked like Ashley couldn't rescue his marriage…
Violet Wilson (Jenny Platt) and Sean Tully were excited about going to the first scan of the baby they were having – on a purely platonic, friendship level. And while Sean was thrilled at seeing pictures of the baby on screen, he also could hardly take his eyes off the sonographer, Marcus Dent (Charlie Condou). It was lust at first sight!
EastEnders
Alcoholic Phil Mitchell (Steve McFadden) had his own special way of making an entrance to a birthday party this time 10 years ago…he turned up drunk and fell face first into the cake. Inappropriate on so many levels but, in this instance, mainly because the party was to celebrate Janet Mitchell's first birthday. Not even the hired clown thought Phil's party piece was entertaining and poor Janet was in tears.
Deano Wicks and Chelsea Fox (Tiana Benjamin) were caught in their own web of lies after they framed Sean Slater for the attack in the shop on Patrick Trueman. The truth came out and Deano and Chelsea were arrested in the Queen Vic as they spun their story about them being heroes to a journalist. They were charged with perverting the course of justice… But the police were the least of their worries. Sean Slater wanted his own justice!
Hollyoaks
Hannah Ashworth (Emma Rigby) couldn't hide her eating disorder any longer so she pretended to her family and the doctor that she had it under control and was dealing with it. Even seeing her fellow anorexic and friend Melissa Hurst in hospital didn't give Hannan an appetite for facing up to her problem. Instead, she helped Melissa break out of hospital and took her to her home. But Melissa didn't have the strength to go on the run and she had a heart attack and died. Melissa was the first soap character to die of an eating disorder
Leo Valentine had moved to Hollyoaks to be with his children after their mother Diane died in 2006. But they didn't know he had left behind a secret family… They found out when his former mistress, Valerie Holden (Jacqueline Leonard, but later played by Samantha Giles) turned up with his illegitimate children, Danny (David Judge) and Lauren (Dominique Jackson).
Leo's secret literally crashed into his family's life as Valerie announced their arrival by throwing a suitcase through a window as Leo and daughter Sasha were eating dinner!
Get the latest updates, reviews and unmissable series to watch and more!
Thank you for signing up to Whattowatch. You will receive a verification email shortly.
There was a problem. Please refresh the page and try again.