16 Claude Littner Faces To Strike Terror Into The Apprentice Hearts!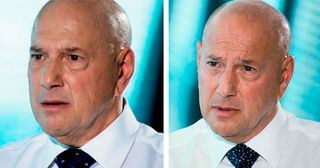 Claude Littner has a demeanour that has reduced a hundred Apprentice contestants to jelly. Here are 16 of his most frightening expressions
The Apprentice candidates should beware, TV's most fearsome reality TV personality Claude Littner is back and he's as uncompromising as ever.
We've chosen 16 looks that sum up exactly why Claude is the scourge of the wannabe millionaires.
1. When you explain you're just like Lord Sugar because you grew up in east London
2. When someone comes up with a naff team name, like Addendum or Varnish or Winnerbot
3. When your CV claims you're fluent in Swahili, so he asks a question... in Swahili
4. When he's just realised this is the most clueless team that has ever appeared on The Apprentice
5. When he reads a children's book that didn't sell one unit...
6. ...then, in the boardroom, the project manager claims the kiddie focus group loved it
7 . When an Apprentice fails to sell a thing on a task, but claims they're a brilliant salesperson in the 'real world'
8. When Lord Sugar agrees 100% with his assessment...
9. ...And when he doesn't
10. When an Apprentice completely drops themselves in it
11. When he realises the task is a slow-motion disaster of Biblical proportions
12. When an Apprentice tells a blatant lie in the boardroom
13. When he finds a weak spot in a candidate's CV
14. When someone claims they're going to win the show, but Lord Sugar fires them in week one
15. When an Apprentice makes a joke
16. When an Apprentice explains why they're destined to be Lord Sugar's heir apparent
The Apprentice returns to BBC1 on Thursday, October 6
Images by BBC and REX Features
Get the latest updates, reviews and unmissable series to watch and more!
Thank you for signing up to Whattowatch. You will receive a verification email shortly.
There was a problem. Please refresh the page and try again.