Box Set Binge: Watch complete series of Versailles, Glitch and Hunted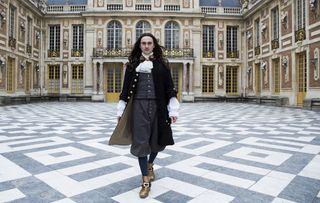 (Image credit: Canal Plus/ BBC/)
Stuck for something to watch this weekend? Sit back and enjoy streaming stand-outs Versailles (Amazon Video), Glitch (Netflix) and Hunted (All 4)
Have a peek at these top shows available on streaming services Amazon Video, Netflix and All 4...
Versailles (Amazon Video) (opens in new tab)
The entire first series of BBC2's glossy 10-part period drama is available now on Amazon Video…
https://www.youtube.com/watch?v=cv6BikgnrTQ
It's 1667 and 28-year-old monarch King Louis XIV (George Blagden) resolves to shift the French court away from Paris to a spectacular palace at Versailles.
Louis, who fears his authority is on the wane, is surrounded by nobles who are eager to seize power. Versailles serves as his gilded prison - a place where he can keep his friends close and his enemies closer.
His younger brother, Philippe (Alexander Vlahos), is a fearsome and respected warrior who has a gay lover, Chevalier (Evan Williams). Philippe's neglected wife, Henriette (Noémie Schmidt), is Louis' mistress. Others, too, are making a play for the heart of the powerful king.
There's scandal, scheming and steamy scenes behind every door in Versailles.
Glitch (Netflix) (opens in new tab)
Buried secrets are set to be revealed in Netflix's Glitch. Catch the first series of the Australian drama on the streaming service now...
https://www.youtube.com/watch?v=swBhgvAAOnA
When small town policeman Sgt James Hayes (Patrick Brammall) is called to the local cemetery in the middle of the night, he makes a discovery that turns his life upside down – six people have inexplicably risen from the dead in perfect health.
'The Risen' have no memory of their identities, so it's down to James to find out who they are, what happened to them, and why they're back. He joins forces with local doctor Elishia McKellar (Genevieve O'Reilly) to unlock the mystery, while struggling to keep the case hidden from the rest of the town.
As the series progresses, true identities are revealed, new relationships are formed, and shocking secrets from the past are unearthed.
It's a real-life game of cat-and-mouse in C4's Hunted, the first two series of which are available now on the channel's streaming service All 4...
https://www.youtube.com/watch?v=YjlGnECL3iY
Hunted follows a group of civilians, known as 'Fugitives', as they attempt to evade detection and capture by a team of former police officers and intelligence officers for 28 days. It's an elaborate game of hide and seek, with the Fugitives given a limited amount of cash and instructed not to leave mainland UK.
Series 1's Fugitives include a pub manager, a plumber and a teaching assistant, while Series 2's line-up includes a court clerk, a software developer and a house-husband. The 'Hunters', meanwhile, are made up of former undercover detectives, ex-military personnel and surveillance specialists.
Will any of the Fugitives throw the Hunters off their scent?
Get the What to Watch Newsletter
The latest updates, reviews and unmissable series to watch and more!