Blu-ray review | Black Sabbath | Boris Karloff's 1960s trilogy of terror gets the Arrow Video treatment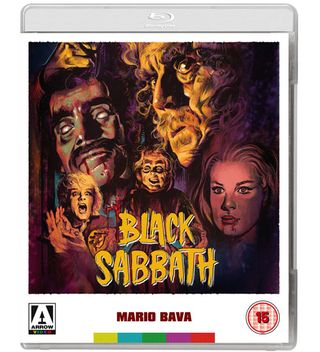 THE STORY Boris Karloff (opens in new tab) plays master of ceremonies in 1963's Black Sabbath, an Italian trilogy of terror from director Mario Bava (opens in new tab) (Black Sunday, Lisa and the Devil). The Telephone, set in the 1960s, is a giallo-inspired story in which a prostitute gets blood on her hands when she asks a friend to help her escape from her former pimp. The Drop of Water, adapted from a tale by Ivan Chekhov, concerns a Victorian-era nurse who gets her comeuppance when she steals a ring from the corpse of a clairvoyant. While the final sequence, The Wurdalak, adapted from a Tolstoy story, stars Boris Karloff as the patriarch of a 19th-century Russian family who turns out to be a vampire that feeds on the blood of his loved ones.
THE LOWDOWN Mario Bava, who kick-started the golden age of Italian horror with 1960's Black Sunday, followed his monochrome masterpiece with this colourful horror anthology that has since become a firm favourite among horror fans.
The first two stories are atmospheric 'sting in the tail' thrillers featuring Bava's unique camerawork and lighting, while the final one is a remarkable stylistic achievement that is pure Bava thanks to its comical ending. The US release was edited to make it more of a spookfest and replaced Roberto Nicolosi's music with a score from Les Baxter (opens in new tab) (who also scored many of Roger Corman's Poe films). But UK fans can now see both versions in Arrow Video's deluxe release.
THE DISC The Arrow Video dual format (Blu-ray/DVD) deluxe edition (opens in new tab) features I tre volti della paura, the European version with the Nicolosi score, and Black Sabbath, the re-edited and re-dubbed US version with the Les Baxter score. Also included is a brilliant new featurette explaining the differences between the two versions, new subtitles, artwork from Graham Humphreys (opens in new tab) http://youtube.com/v/beAcj_XNt78 Black Sabbath (opens in new tab) adopted the film's title (they originally called themselves Earth) and changed their music style after seeing fans queuing up to see Bava's film at a local Birmingham cinema.
Get the latest updates, reviews and unmissable series to watch and more!
Thank you for signing up to Whattowatch. You will receive a verification email shortly.
There was a problem. Please refresh the page and try again.