Blu-ray/DVD review | Cría cuervos (Raise Ravens) | Carlos Saura's haunting celebration of childhood in fascist Spain gets a UK BFI release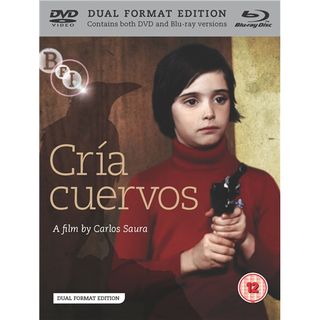 THE STORY Thirtysomething mother Ana (Geraldine Chaplin (opens in new tab)) reflects on her childhood in 1970s Madrid when, as an eight-year-old (Ana Torrent (opens in new tab)), she witnessed the death of her adulterous military father, whom she blames for the death of her mother (also played by Geraldine). The young Ana's summer vacation is further disrupted when an uptight aunt arrives at the family's mansion to look after the orphaned girl, her two sisters and their frail grandmother, and soon clashes with the spirited Ana…
THE LOWDOWN Set in the dying days of the Franco regime (opens in new tab), 1976's Cría cuervos (opens in new tab) stands as a landmark of Spanish cinema and speaks volumes as a political parable – on the fate of the country following the Fascist dictator (opens in new tab)'s death in November 1975 – and about a woman's place under paternalistic authority. It's also an evocative picture of childhood and of the bond between mothers and daughter.
So much could be said here about director Carlos Saura (opens in new tab)'s intimate and very personal film where history, family and memory collide, that it's best to experience it for yourself. But one scene will forever haunt and delight me, and that is when Ana (a beautifully nuanced peformance by Torrent) and her sisters play dress up while listening to Jeanette (opens in new tab)'s infectious pop tune Porque te vas (opens in new tab) (which became a huge hit on the back of this highly-successful film - you can listen to it here and below (opens in new tab)).
THE DISC The BFI's Dual format edition (opens in new tab) is a UK first for Saura's award-winning film (it won the Grand Prize at Cannes in 1977) and features a stunning re-mastered print of the film, plus an on-stage interview and a portrait of the director (DVD only), optional English soundtrack, trailers and collector's booklet.
Cert 12 | Region 1 | Spanish (English subtitles optional)
Available 27 May 2013 http://youtube.com/v/HpGv5NL3x8A
Get the What to Watch Newsletter
The latest updates, reviews and unmissable series to watch and more!