Brendan O'Carroll on the Mrs Brown's Boys festive specials: The tree is being designed now!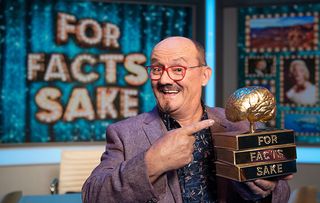 (Image credit: BBC / Hungry Bear)
Mrs Brown's Boys' Brendan O'Carroll on sifting facts from fiction as the host of cheeky new quiz show For Facts Sake and the festive specials of the hit comedy
Mrs Brown's Boys star Brendan O'Carroll is used to spinning a colourful yarn as uproarious 'Mammy' Agnes Brown in the hit comedy, but now the comic is putting that skill even further to the test as the host of BBC1's cheekily-titled game show For Facts Sake.
Here, Brendan O'Carroll tells What's On TV about his new quiz For Facts Sake and Mrs Brown's Boys...
WOTV: You've got Christmas and New Year specials of Mrs Brown's Boys coming up. Will there be another fabulous tree?
Brendan O'Carroll: "Well the tree is being designed now! Father Damien's [Conor Moloney] running a competition for the most extravagantly decorated house and Agnes wants to win. She's also got a knock-off Irish version of Alexa called a Maggie that tells her what to do. She won't be happy about that!"
What's On TV: Tell us about For Facts Sake
BO'C: "I thought, 'What if we could have a game where we could dispel some myths and provide actual facts?' Every studio audience member brings in a fact and a related prop, which we call a 'thingummyjig', and some of them come and join the teams. When you see some of their props, you think, 'This one's a weirdo!' But it's exciting because I don't know what I'm going to get from them. I work better when I don't know what's happening!"
WOTV: What's your favourite part of the show?
BO'C: "I've enjoyed the different experts who come in and every week I found out something I didn't know. We also have Pepsi [Pat 'Pepsi' Shields, who plays Mark in Mrs Brown's Boys] dressing up and sharing facts. He's fantastic as Shakespeare!"
WOTV: Your Mrs Brown's Boys co-stars are the team captains, how did they do?
BO'C: "They were brilliant. There was plenty of banter - they are very competitive! It was like we were at home playing a game in the sitting room. My wife Jenny [aka Cathy] is a clever clogs and so's my daughter Fiona [aka Maria]. We also have my son Danny [aka Buster] and Paddy Houlihan [aka Dermot] and they surprised me with what they knew."
WOTV: What type of quizmaster are you?
BO'C: "My job's just to not get in the way of the game! It'd be hard to beat Rob Brydon on Would I Lie to You? He steers it and doesn't let them get away with anything but only chips in when he needs to, so that's what I want to do".
WOTV: Were you daunted about being Brendan O'Carroll in For Facts Sake and not wearing Mrs Brown's famous cardie?!
BO'C: "I did stand up for years so I'm used to being me on stage but at first on this, it felt taking down a shield and I could hear my heart thumping. But it wasn't daunting once I felt the connection to the audience."
For Facts Sake airs on BBC1 on Monday 16 October at 9.30pm
Get the latest updates, reviews and unmissable series to watch and more!
Thank you for signing up to Whattowatch. You will receive a verification email shortly.
There was a problem. Please refresh the page and try again.