Brendan Sheerin: What happens when Coach Trip goes young and heads to Ibiza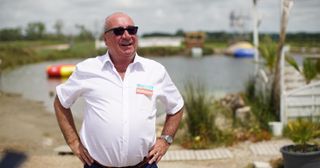 (Image credit: 12 Yard Production Limited)
Coach Trip star Brendan Sheerin reveals shocks are in store during the new series, in which the travellers are young and in the mood to party
Coach Trip returns to our screens tonight and we guarantee it's addictive TV!
Gone are the gentle interactions between elderly couples as they travel through Europe guided by Brendan Sheerin. Instead, expect a bus full of 20-something game-players, determined to win a luxury, all-expenses paid holiday in Ibiza.
But as rivalries emerge, hangovers kick in, tempers fray, games are played and romances are formed, who will stick the pace of 30 days travelling around Europe in a bus?
We chatted to host and experienced tour guide Brendan Sheerin, who reveals competitiveness is at all all-time high…
How different is Coach Trip: Road to Ibiza to previous series of Coach Trip? "Normally on Coach Trip you get elderly couples, middle-aged couples and younger couples and you see the interaction between different generations. But we don't have that this time – they're all young people!"
Were you worried about bad behaviour? "I was a bit perturbed. I thought it could be a rowdy bus full of hooligans! But they were actually very, very competitive. They started networking straight away."
So they're very savvy when it comes to the competition? "They know it's a game and are savvy about how to play it. They want to win the all-expenses paid week in Ibiza at the end of it and party, party, party!"
Each pair has to vote for the couple they least like travelling with. What affect does this have on the atmosphere? "The vote changes everything! They know they've to get rid of a couple and they're competitive about it. They try not to give anyone a reason for voting them out, and are really aware of what they say and do in case they give another couple ammunition to use against them in the vote later on! They do have a lot of fun, but things can get tense at the vote."
Do any romances develop? "Oh yes, there's always an opportunity for love on the coach. They're all good-looking lads and ladies. I don't want to give too much away, but there are a few liaisons!"
Are there drunken antics, too? "They do have a bit of a party after the day's travelling. We film it all! I tend to back off when they go out partying, because I've to be up in the morning, fresh as a daisy, for the next stage of the tour. In the evenings people get a little 'happy', shall we say!"
It's addictive viewing! "Yeah like a drug or wanting another glass of wine. Having these seven couples on the coach and seeing how they interact with each other, while being thrown into activities from the first day, it's great viewing."
Are there many shocks along the way? "One of the votes absolutely stuns me. I've never had a vote like it on The Coach in all the years we've been making the show. It shocks me! All I can say is it's an amazing episode…"
The first leg of Coach Trip: Road to Ibiza kicks off on E4 tonight at 7.30pm. The 30-part series airs Monday to Friday.
Get the latest updates, reviews and unmissable series to watch and more!
Thank you for signing up to Whattowatch. You will receive a verification email shortly.
There was a problem. Please refresh the page and try again.