Bros stars Matt and Luke Goss respond to the one question we all want answered!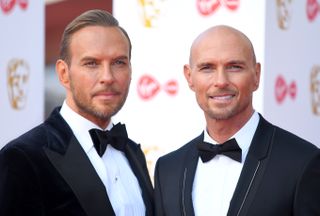 (Image credit: WireImage)
Will there be a sequel to After the Screaming Stops?
When Bros: After the Screaming Stops became the surprise highlight of last year's Christmas TV schedules, Matt and Luke Goss changed the face of music documentaries forever: nobody had seen anything quite as anarchic, honest and exposing before.
But at a time when anything worth watching gets a second series, could we be set for a sequel? And could the twins' fragile relationship stand it?
Here, Matt and Luke Goss call TV Times from LA to reveal what's in store, the future of Bros and how their reunion has tested their relationship...
Your documentary, After the Screaming Stops, was one of the most talked about TV shows in years. What did you make of the reaction?
Luke Goss: "I was utterly blown away by the reaction. I was really intimidated, because I'm very private, I'm a bit of a hippy, I usually go off to the desert and do my thing. I was shocked that people were so warm – it has made for a much more pleasant experience coming to my home country. I never thought I would feel welcome here again, I felt exiled, but now I'm utterly stunned by how lovely everyone has been."
Matt Goss: "We didn't want to make a promotional piece saying, 'Look how fabulous we are', those documentaries irritate me. I see programmes where someone's getting massaged by six people – it's just not real life. We hoped the reaction would be good, but we couldn't believe how much it affected people. I'm immensely proud, it was humbling."
MORE: Gary Windass's killer crimes are not an 'exit storyline', says Coronation Street's Mikey North
Has it made you reassess your relationship?
LG: "It's easy to look at the documentary as just me and Matt arguing, but the purpose of it wasn't just to allow people to be voyeuristic. It ended up being an amazing experience that built so many bridges between me and my brother – I had no idea it would be like therapy, but it was! It helped us communicate again.
"There's nothing like sitting together in a screening in LA and watching it for the first time – it's very uncomfortable seeing yourself argue and it forces you to address things. Siblings fight, that's what happens, but arguing with someone you love is a dumb idea."
MG: "It was a draining and exhausting time when we were filming, I did not enjoy it and it took me about three months to recover from the process. But now me and my brother have become very close – yes, we have our differences and can argue like no other, but we have learnt from the movie that there is massive consequence and I don't think there is a song in the world worth losing our friendship over.
"The movie portrayed that we were completely estranged but we weren't – there was a three year period where we didn't speak, and that was one of the worst times ever in my life. We've only had one big argument preparing for our next show.. that's not too bad!"
Would you make a sequel to Bros: After the Screaming Stops?
LG: "There's been so much talk about a sequel, which has gathered momentum, but it would have to be an entirely different kind of film. I don't want a director demanding fights between me and Matt - you don't plan that stuff."
MG: "The film only touched the tip of the iceberg of our lives - we'll definitely do another one."
We're excited for your new show, A Night in With Bros, on BBC4 – what can we expect?
LG: "Entertainment! There'll be celebrity guests, live music and surprises as well as showing the TV and films that had an impact on us growing up. So it might be a movie from the 1950s I love or a musical performance that stuck with me as a kid on the Old Grey Whistle Test.
"It's a true honour to be asked to do this and we want it to be a real giggle. Matt and I have both been compiling our lists of world class moments – we will see what prevails!"
MG: "Growing up in the same house obviously there's a lot of nostalgia we share and some things we are 100% in agreement on. It's going to conjure up tons of memories, I can't wait. We want to create something that keeps people watching and makes them late for work the next day."
LG: "Plus we will be performing. It would be crazy not to!
Do you remember watching TV together as kids?
LG: It was a part of our life, and as a small working class family we would sit around watching stuff together in the evenings – if I wasn't out seeing one of my girlfriends!
"My stepfather used to watch Rising Damp, which was really funny and progressive for its time, and I loved Only Fools And Horses, it cracked me up. I remember movies like Platoon too, which affected me when I was a kid. I'm old enough to remember a time before remote controls too."
MG: "To this day I still use TV and film to switch my mind off and find escapism. I liked Bodyguard and Designated Survivor with Kiefer Sutherland. And on a nostalgic level, there's stuff I'll put on once or twice a year just to have that feeling, shows that make you think of your granddad putting on the roast potatoes for Sunday roast lunch."
A Night In with Bros is on BBC4 on Friday 19th July at 10pm.
Main picture: WireImage
Get the latest updates, reviews and unmissable series to watch and more!
Thank you for signing up to Whattowatch. You will receive a verification email shortly.
There was a problem. Please refresh the page and try again.