Call the Midwife star Jack Ashton: 'I sent Charlotte Ritchie a photo of Barbara's gravestone!'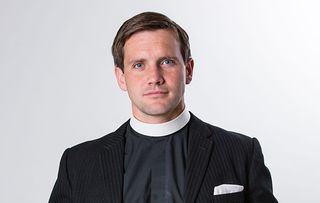 (Image credit: BBC/Neal Street Productions)
Jack Ashton on mourning Barbara and why he might be hanging up his dog collar in Call the Midwife
Curate Tom Hereward, played by Jack Ashton, is grieving in this week's emotional Call the Midwife finale, following the death of his young wife Barbara (Charlotte Ritchie).
Here Jack Ashton spills the beans to TV Times about saying goodbye to Barbara in the Call the Midwife finale and why he might be taking a break from Poplar…
TV Times How is Tom dealing with his grief?
Jack Ashton: "Tom's in shock and you see his loneliness. We all sobbed reading the scripts for the last two episodes and when we filmed the deathbed scenes, my daughter Wren [with partner Helen George, who plays Trixie Franklin] was only two days old, so I hadn't slept for two days. It was easy to access the emotion! Tom didn't really show much emotion before so to be able to do that was a lovely journey for me as an actor and him as a character."
TVT What was it like filming the funeral scenes?
JA: "Horrid but also lovely because they're the only times we all get to film together. We tried to keep things light-hearted and I sent photos of Barbara's gravestone epitaph to Charlotte who laughed because she was in a pub somewhere!"
TVT What will you miss about working with Charlotte?
JA: "Oh, it's strange mourning your fictional wife but also the loss of a good friend. Charlotte is such fun and we took the mickey out of each other relentlessly. The females in the cast always gang up on me! When Tom came back from Birmingham in caramel-coloured clothes, everyone called me Captain Caramac and started laughing when I came out of the trailer!"
TVT What's next for Tom?
JA: "In this week's finale, Tom gets an offer that might allow him to deal with his grief away from Poplar. He could be back in the series after next but he's hanging up his dog collar for a bit. Helen has been looking after Wren while I've been working so, when she goes back to film series eight soon, I'll be 'Daddy Daycare'. Call the Midwife will always be the fondest part of my life, I met Helen there, it has taught me so much but it is time to do new things, it's a big world out there."
TVT Do you get recognised much?
JA: "Not much but at weddings, semi-drunk men come up and say, 'You're that vicar! I don't watch it but my missus does. Can I have a picture though?!' I don't mind because it is lovely when people recognise me."
Call the Midwife concludes on Sunday on BBC1 at 8pm
Get the latest updates, reviews and unmissable series to watch and more!
Thank you for signing up to Whattowatch. You will receive a verification email shortly.
There was a problem. Please refresh the page and try again.