Call the Midwife star Stephen McGann on how the team face a 'crisis' as Barbara fights for her life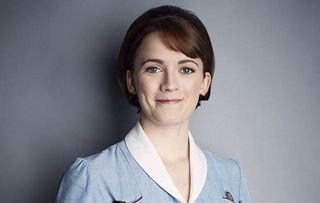 (Image credit: BBC/Neal Street productions)
Call the Midwife actor Stephen McGann on the 'vicious' illness Barbara is battling
Our friends at Nonnatus House are under pressure this Sunday in Call the Midwife as Barbara (Charlotte Ritchie) battles meningococcal septicaemia in hospital.
As Dr Turner (Stephen McGann) supports her stunned husband Tom (Jack Ashton), he also faces a tricky case at a reform school.
Here Stephen, 55, tells TV Times about the crisis facing the team as Barbara fights for her life in Call the Midwife and Dr Turner's latest tough case....
What impact does Barbara's fight for survival have on her friends?
"Barbara's so full of life but this illness is vicious and it has a knock-on effect on everyone because they're like a family. It's a crisis and a terrible worry but they have to carry on as professionals."
What does Dr Turner discover at the reform school?
"He really bonds with this lad who has a pregnant wife. He's a car thief and Dr Turner knows his family's never going to get on its feet, so he wants to establish ground for him to be able to start again."
Dr Turner's son Timothy (Max Macmillan) is also causing trouble because he wants to go to a Rolling Stones concert…
"Tim's being a typical teenager, but the teen culture is alien to Dr Turner and he feels his son is moving away from him. He's more of a Glenn Miller man!"
Do you complain to your wife Heidi Thomas, the show's creator, for making you cry when you read the scripts?!
"Yes! I read them in the bedroom and she waits outside to hear what I think. Once I came out in tears saying, 'How could you?!' She said, 'Excellent, that's what I wanted!'"
What is it like working with the babies who play Dr Turner's youngest son Teddy?
"Brilliant! I was nervous about picking up babies before I had a child [son Dominic, 21, with Heidi] but now I walk around the set singing to them all."
Laura Main, who plays Dr Turner's wife Shelagh, is touring in Shrek The Musical as Princess Fiona. Have you been to see her?
"Yes, I surprised her by turning up with Charlotte and Annabelle Apsion [Vi Buckle] – it was like This is Your Life!"
Call the Midwife continues on BBC1 this Sunday.
Get the latest updates, reviews and unmissable series to watch and more!
Thank you for signing up to Whattowatch. You will receive a verification email shortly.
There was a problem. Please refresh the page and try again.