Carol Decker on Celeb MasterChef: I clashed a bit with Gregg last time we did a show!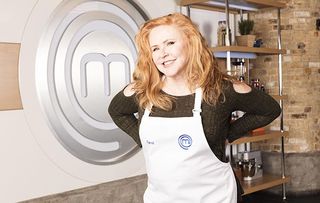 (Image credit: BBC/Shine TV Ltd)
But the T'Pau singer reveals Gregg Wallace was 'super-sweet' on Celebrity MasterChef
A host of famous faces, including T'Pau singer Carol Decker, are bracing themselves for the heat of the kitchen as Celebrity MasterChef returns next week.
Over the next six weeks, 20 celebrities will be cooking up a storm under the guidance of resident judges John Torode and Gregg Wallace for the chance to follow in the footsteps of last year's winner Angellica Bell and be crowned MasterChef Champ 2018.
As the heats start next week, we ask T'Pau singer Carol Decker, 60, what's on the menu...
This isn't the first time you've crossed paths with MasterChef judge Gregg, is it?
Carol Decker: "No. Gregg and I did a TV show back in 2008 called Just The Two of Us, where I had to teach him to sing. We clashed a bit on that show, so I thought this would be his chance to get his own back on me. So I was nervous about cooking for him but he was super sweet – though I'd definitely say my cooking's better than his singing!"
Why did you want to go on Celebrity MasterChef?
CD: "The whole entertainment business has opened up, so you now have to do other things alongside what you're known for and MasterChef offers an opportunity to show you in a different light. It's also about learning a new skill, working under pressure and getting along with other people. So I think it's quite a good discipline."
So how did you find the first challenge, The Mystery Box?
CD: "I was having heart palpitations at first because I have a very small repertoire of 'mum food' that I can actually cook. But I can do spaghetti Bolognese, a chilli and I can even make burgers, so when I saw mince among the Mystery Box ingredients I was relieved."
What's more nerve-wracking: playing stadium gigs or being on MasterChef?
CD: "Definitely MasterChef. I'm comfortable being up on stage, so I felt under real scrutiny with the cameras on me, doing something that's not my forte and I didn't want to make a fool of myself. So it was challenging – but great fun!"
Celebrity MasterChef starts on Thursday August 23rd at 8pm on BBC1.
Get the latest updates, reviews and unmissable series to watch and more!
Thank you for signing up to Whattowatch. You will receive a verification email shortly.
There was a problem. Please refresh the page and try again.