Casualty star Michael Stevenson: Iain's story doesn't finish on the operating table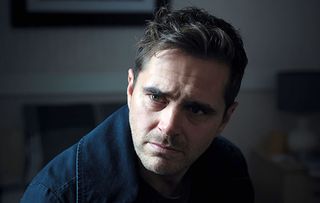 (Image credit: BBC)
Casualty star Michael Stevenson discusses Iain Dean's difficult journey and reveals what's next for the troubled paramedic…
Viewers breathed a collective sigh of relief tonight when Connie Beauchamp and Jac Naylor managed to work together and save the lives of Casualty paramedic Iain Dean and Holby City consultant Sacha Levy in the second part of BBC1's dramatic Casualty/Holby City crossover.
It's been a devastating time for Casualty character Iain, who's been struggling with PTSD and depression since the death of his beloved paramedic partner Sam Nicholls and vulnerable patient Mia Bellis last Summer.
A couple of week's ago Iain reached rock bottom and attempted to end his life. Fortunately he was rescued by co-worker Ruby Sparks and raced to the ED last week. But Iain's trauma was far from over. With the hospital experiencing a cyber attack that compromised vital life-saving facilities, Iain's life was on the line.
Here we talk to Michael Stevenson about Iain's difficult suicide storyline and its aftermath…
Warning this interview concerns subject matters that may be upsetting. If you're affected by any of the issues raised please seek help immediately
In Saturday's Casualty Ruby managed to get Iain to the ED. Why do you think she was the only person who suspected Iain wasn't okay?
"While Ruby didn't suspect what Iain was planning she thought the things he'd said to her [in the previous episode] were a bit odd. Because of their volatile relationship in the past Ruby wasn't able to ask him those sorts of questions. She thinks Iain is a fiery character who's going to lay into her if she asks him one more time. Yet, Ruby put two and two together."
We discovered tonight that Iain has pulled through. Can you reveal what's next for him?
"This is start of his next journey. We've got some brilliant episodes coming up after this that deal with his recovery and how he deals with the guilt of what he tried to do. It definitely doesn't finish on the operating table, that's for sure."
Why did Iain decide on this desperate course of action?
"We did a lot of research and generally when people make this decision they feel like, not only are they going to relieve themselves but it's also going to relieve everybody of the burden they're causing. It's definitely not carefree. It's more that when Iain finally reached this decision he felt like the weight had been lifted off his shoulders because of everything that's happened to him in the past year – the depression, PTSD, everything he's felt – is going to go away."
What did you keep in mind when filming these difficult scenes?
"We were very careful not to play it that Iain was happy about the situation. But apparently it's quite a common thing in those final hours that there is a certain calm about somebody because they know their pain is going to stop. We definitely tried to stay away from too many clichés, such as trying to settle scores and things like that. There's tender scene where he basically says goodbye to his sister Gem for the final time, but he does it in a way she would not suspect a thing."
What would you say to anyone affected by Iain's storyline?
"The first thing is to realise that there is so much support out there that is readily available. The BBC put up their support helplines. Definitely talk. Definitely open up. And don't be afraid to talk. Iain's [inability] to open up and talk leads him down that path, and it's a path he didn't need to go down.
"There's so much support available to us these days. And that can be at the end of a phone where you don't even have to know the person you're talking to. You don't have to look at them. You just have to say the words."
Read more of Michael's powerful message to anyone affected by this storyline here
The storyline has been carefully planned. Did that mean making changes along the way?
"When this episode was first written it was written quite differently where a few things happened to Gem that made her very reliant upon Iain. We changed that at a very late hour because we felt that if Gem became a factor of responsibility in those last hours, with Iain having to protect and look after her, it would put a whole different element on it. In the episode we filmed Iain believes everybody's happy and nobody's worried about him, which is exactly what he wanted. He would particularly never want the attention that followed in the following episodes where he gets found during the Casualty/Holby City crossover."
The scenes between Iain and Ruby have been particularly moving…
"Yes, there was a lovely scene at the end of the episode prior to the crossover where she shut the door and he knows that's the final time he's going to see her. But she gets him. She finds him. And she works very hard to bring him to the hospital. Then its unbelievably difficult for her to try and persuade the people in the hospital, in particular Gem, that she thinks he tried to take his life."
Why was it so tough for Iain's family and friends to accept?
"When Ruby found him there are no marks on him, no sign of struggle, no medication or evidence to suggest what he's done. At first Ruby thought he was asleep… He could have had a heart attack, as far as they're concerned. It causes mass confusion in the hospital and it's on Ruby's shoulders – bless her! She's basing it just on the way he's been behaving and things that he's said to her the day before. It was a hard thing for her to tell Gem; she has a massive task on her hands."
The crossover episodes are tremendous. Did you enjoy filming them?
"I think the crossover is amazing. The scripts were fantastic. They threw loads of barriers in the way to make it difficult, and there was the storyline with Sacha in Holby too. Basically Iain dies several times on the operating table. I think that anybody who loves either show should definitely watch both because it will make you realise how amazing the shows are individually, and more so when they work together. It was a brilliant experience."
On a slightly different note, how was it for you playing a patient?
"Not much fun! I like to be laughing and joking around, but you're pretty much tied to a bed. The first half an hour was lovely because I was so knackered due of the nature of what I'd been through playing the character and was ready for a lay down! I was quite happy that I'd four weeks in the schedule of lying down and having a sleep. But I was bored stiff within half an hour."
Tell us more…
"Everybody forgets that you're there. Everybody has a tendency for some reason to touch you, tickle you, lean on you, put their cups of tea on you, so not a great amount of fun. But it was nice to see everybody else working!"
Get the latest updates, reviews and unmissable series to watch and more!
Thank you for signing up to Whattowatch. You will receive a verification email shortly.
There was a problem. Please refresh the page and try again.