Casualty star Rick Warden on the thrill of playing baddie Ciaran Coulson, aka MR MEAN!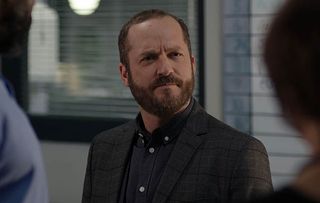 (Image credit: BBC)
Rick Warden on why he loves playing Casualty's 'Mr Mean' Ciaran Coulson…
Casualty executive trouble-shooter Ciaran Coulson made an unforgettable entrance on his first day in Holby ED back in June.
From publicly slow-clapping clinical lead Connie Beauchamp to telling charge nurse Jacob Masters to put his mother in a home, it was soon clear Ciaran – played by Rick Warden (opens in new tab) – wasn't interested in making friends.
Appointed by hospital CEO Henrik Hanssen, Ciaran has just three months to improve the failing ED and is determined to succeed at any cost.
Since then, Ciaran has divided loyalties - both on the wards and with viewers – as he wages war with show favourite Connie (Amanda Mealing (opens in new tab)) who, unbeknown to Ciaran, is in the throes of post-traumatic stress disorder and secretly addicted to anti-anxiety medication. But is Ciaran really all bad?
After all, he's attempting to help registrar Archie Hudson clear her name, has sincerely apologised to Duffy for misjudging her, and, when left to his own devices, has the ED running like clockwork. Plus he has an abundance of wicked one-liners!
MORE: Poldark bosses reveal a movie could follow the final series
Eager to learn more, TV Times booked an appointment for an exclusive interview with Casualty star Rick, whose previous credits include Happy Valley and Indian Summers, to find out how he feels about playing the show's 'Mr Mean'…
Are you enjoying playing troublemaker, sorry trouble-shooter, Ciaran?
RW: "The Casualty team is fantastic and I'm having fun with Ciaran. He's Napoleonic, arrogant and ruthless. You need somebody in a drama you don't like. Playing someone as unpleasant as Ciaran is good fun in the moment, but when people are saying 'I hate this bloke' or 'Look what he's done to Duffy' it's hard not to take it personally sometimes. I just try to maintain a sense of humour with it."
Did you realise he was going to provoke such a strong reaction from viewers?
RW: "[Laughing] No! I wasn't prepared. The Casualty fans are game to have some fun on Twitter. I didn't know what approach to take so figured I'd dive in and enjoy pretending to be Ciaran. He's been nicknamed Mr Mean online. I haven't had people stop me in the supermarket, as I don't look very like Ciaran – I'm not bearded – and I don't behave like him! Although a couple of school kids did come up to me and say Ciaran was the best doctor in Casualty, which is quite worrying, really!"
Ciaran has encouraged nurse Duffy (Cathy Shipton (opens in new tab)) to step down and now plans to expose Connie's medical mistakes. Is he difficult to defend?
RW: "It's quite hard because he's not nice; his manner is abrasive and he's ruthless. On some level, we're all Team Connie, but Ciaran has difficulties with her. Let's not forget the job he's been given by Hanssen is to root out issues in the ED. People's lives are at stake. I'm going to fight his corner!"
What are his good points?
RW: "It might be hard to see, but I think Ciaran is the hero in his own story. He's not particularly pleasant or affable but when he makes a mistake, as with Duffy, he admits it and apologises. He also sees that Archie's been wronged and wants to find out the truth."
Which brings us to Connie…
RW: "Ciaran knows a mistake has definitely been made during a procedure between Connie and Archie [in a previous episode]. Ciaran didn't see ownership of that mistake from Archie, who supposedly made it. She's wasn't saying, 'I'm really sorry, I made a mistake.' What Ciaran sees is Connie Beauchamp telling him Archie made the mistake. He smells a rat!"
Excitingly, Archie and Ciaran have teamed up against Connie. How would you describe their relationship?
RW: "Some people would cynically suggest he's found an ally but it's more than that. What develops between Ciaran and Archie is more than a relationship of convenience or politics. There's something underneath. He sees someone serious. They definitely become friends over the next few weeks."
Do you think he could have sympathy for Connie?
RW: "A lot of Connie's stresses pre-date Ciaran's arrival. He's exacerbated them, but he didn't create them. And he doesn't know about her medication at this stage. If he had all the information he'd be sympathetic – to a point… With all due respect, if it goes down in Resus do you want Duffy or Connie, who could potentially mix up medication or get things wrong? Or do you want arrogant Ciaran Coulson when you're unconscious?"
Next week he turns the heat up on Connie when the ED's overrun after a prison riot. What can you reveal?
RW: "You'd think Connie's earlier eviction of him from sharing her office would give her some room – but actually it doubles the pressure. The trouble is when someone as arrogant as Ciaran meets someone like Connie, they just can't be easily in the same space. He's decided that the ED's problems are at the top."
Then disaster looms further when Connie asks Duffy to help in Resus….
RW: "I know it can come across that Ciaran dislikes Duffy, but his problem was with her being in position of responsibility and suffering onset dementia. There are some sensitive, nuanced scenes coming up between Ciaran and Duffy where he relies on her to be a witness. He can see there's something wrong with Connie. There's blood in the water and he wants to get to the source of it. But I don't think Ciaran knows what he's getting into with Mrs Beauchamp…"
We enjoyed Ciaran's clashes with nurse Jacob Masters when he made his initial ED entrance. Were those scenes with Charles Venn (opens in new tab) fun to film?
RW: "That's another classic case of Ciaran not knowing someone's background. All he sees is someone who's late everyday! Charles Venn is about two feet taller than me so it was fun measuring up to him. Have you ever been close enough to Charles to push him? Believe me, he's a wonder – if you push him, it's like pushing a wall that pushes back. Next time we chat I want you to have prodded Charles Venn!"
Please note: No Charles Venns were hurt during the course of this interview. Under no circumstances should Charles Venn be pushed or prodded without prior written permission from Mr Charles Venn.
Writer for TV Times, What's On TV, TV & Satellite Week and What To Watch
With twenty years of experience as an entertainment journalist, Elaine writes for What's on TV, TV Times, TV & Satellite Week and (opens in new tab)www.whattowatch.com (opens in new tab) covering a variety of programs from gardening and wildlife to documentaries and drama.
As well as active involvement in the WTW family's social media accounts, she has been known to get chatty on the red carpet and wander into the odd podcast.
After a day of previewing TV, writing about TV and interviewing TV stars, Elaine likes nothing than to relax… by watching TV.
Get the latest updates, reviews and unmissable series to watch and more!
Thank you for signing up to Whattowatch. You will receive a verification email shortly.
There was a problem. Please refresh the page and try again.