Casualty viewers left in shock after tragic Dylan Keogh and Ciara Cassidy cliffhanger: 'What was that ending?!'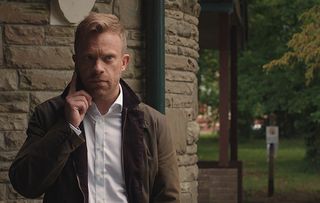 (Image credit: BBC)
It's been a dramatic few weeks on Casualty as viewers have watched the turbulent romance between Consultant Dylan Keogh and Ciara Cassidy.
The pair's relationship took a shock turn last week as Dylan (William Beck) got himself caught up in the abusive relationship between Ciara (Belinda Stewart-Wilson) and her secret husband Joel Dunns.
And the heartbreaking storyline hit an all time high yesterday when Joel violently attacked Ciara and knocked her to the floor after she got a call from Dylan.
Dylan was quick to call an ambulance after hearing her screams down the phone, but Ciara protected her husband and denied anything had happened.
When Connie later intervened, after suspecting domestic violence, Ciara finally revealed the truth and told Joel she was leaving him.
But while viewers thought Ciara and Dylan were going to get their happy ending, Joel - played by Gyuri Sarossy - chased the pair after spotting them driving away from the hospital.
In an unexpected cliffhanger, the two were then seen about to collide with an oncoming van - leaving viewers wondering who will survive the devastating crash.
And it's fair to say everyone is desperate to find out what happens, as one fan wrote on Twitter: "What was that ending!! They need to stop leaving us on cliffhangers!! 😭 #Casualty"
"Dylan! What, nooooooooooooooooooo, don't leave it there!! I was bracing myself for the crash! #Casualty," said another.
While a third added: "IT CAN'T END THERE #Casualty."
And they weren't the only ones...
Plenty of viewers also praised the BBC for drawing attention to domestic violence, as another wrote: "Shoutout to the people on #Casualty for covering the topic of domestic violence and how it can affect people at home and around them."
And a second added: "Tears in my eyes. That list brings it all back. #DomesticViolence is never acceptable and it can take years for those scars to heal, if they ever do. Well done #Casualty great story line well written, well acted.."
Get the latest updates, reviews and unmissable series to watch and more!
Thank you for signing up to Whattowatch. You will receive a verification email shortly.
There was a problem. Please refresh the page and try again.