Charlie Brooker: 'I absolutely knew Karen Gillan would be funny in A Touch of Cloth'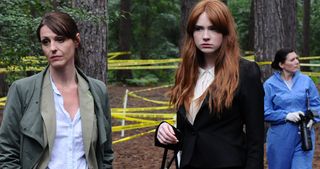 The wickedly funny crime drama spoof A Touch of Cloth returns for a third instalment entitled Too Cloth For Comfort on Saturday and Sunday, August 9-10 on Sky 1 at 9pm.
While John Hannah and Suranne Jones returns as troubled maverick Jack Cloth and his intense sidekick Anne Oldman, former Doctor Who actress Karen Gillan joins the cast as rookie cop Kerry Newblood. TV & Satellite Week caught up with writer Charlie Brooker to find out more…
How would you sum up Too Cloth for Comfort?
"Stupid. Which was our aim. It draws on the grand tradition of Cloth by attempting to kick laughs out of you unrelentingly. But it's the most rounded and emotional story we've had. Jack is on an emotional rollercoaster as things get too close for comfort, and all our characters have an emotional epiphany, so I'm pleased with it. The one annoying thing that is missing is Todd Carty as a ghost. He gets a mention, but we should have brought him back."
Did John Hannah enjoy playing the double role?
"Yes, he had the fun of playing both Jack and Terry Cloth, that name is such a terrible joke, and also playing both of them in flashback, so there is about as much angst as one man can bear. But he got to show that he can play a cop with a beard, or a cop without a beard, or a cop's brother with long hair, the whole range."
And Oldman, pronounced 'Old Man', has taken to drink in a big way...
"Yes, it's a nod to Prime Suspect. In the first one Oldman and Jack confessed their feelings for each other and then in the second, he broke her heart, so we thought, 'What do brilliant detectives next?' If you can't kill off your detective's relatives, you give them a personal demon to battle, so she develops a drink problem and we see alcohol being poured down the toilet and then her lapping it up like a thirsty hound."
What have John and Suranne brought to the trilogy?
"They are both familiar faces who have played tortured detectives, so they brought an authority, gravitas and 100 per cent conviction. If we had comedy people it would have been a different tone and it would have been terrible to have people mugging. We've always aimed along the lines of the first Airplane movie where Leslie Nielsen, who was then seen as a very straight actor, did his deadpan stuff for the first time."
Tell us about Karen Gillan's character
"We thought by the time they get to this point in a serious show they bring in some new blood so that is exactly what we did and we brought in this naive rookie. Karen is a great actress and the perfect foil and addition to the team as her character can get away with being slightly kookier, ganglier and gawkier because she is the new one, which is a different trope for the show."
Did you know she would be funny?
"Absolutely. Often within Doctor Who she was called on to demonstrate her comic skill and the very first time we saw her in that she appeared to be a policewoman, but it turned out that she was a kissagram, so this time she gets to actually be a policewoman. She has got funny bones and comedy chops and she just inherently gets it. Our show is tricky to pull off for somebody coming in because our level of reality is slightly odd because everybody is playing it totally straight, but she was brilliant."
Has it always been important to you that the show has a proper whodunit at its heart?
"Yes, it has to hang together. For the very first story we mutated an actual script for Messiah. For two and three we created our own stories, which is tricky because we have to make sure we nail a lot of clichés and go to familiar places such as the morgue, but even in this ridiculous world, you need to underpin it with a story or it would be someone reading a joke book aloud."
Is this really the last we have seen of Cloth?
"It seemed logical to make a trilogy, but there is no end of crime stories according to TV so therefore no end of ways to take the mickey out of them and I'd be happy to do more. Or we could have a Carry On thing of the same cast in a different setting or genre and do Game of Cloths or Cloth Men or Breaking Cloth. I'd like to do World War One actually, maybe The Pity of Cloth or Trench Cloth."
Have any crime drama writers or actors been sniffy about the show?
"No, nobody has said we shouldn't be taking the mickey. Not everyone loves the show, but I think there are too many comedies where someone just says something awkward and then everyone winces for half an hour. We are quite old school and wanted to hark back to something with a shamelessly stupid gag factor."
Can you watch TV normally now?
"No, I am screwed because if I see something brilliant I'm annoyed because it's better than anything I could have done and also I can't take the mickey. So I love it when I watch something that is ridiculous because there is a lot of brilliant TV around, but fortunately still a lot of stupid stuff."
What have you found particularly daft recently?
"True Detective was brilliant until episode four, which was basically A Touch of Cloth II because Matthew McConaughey goes undercover with a motorbike gang like some 80s action movie. It fell into a different dimension and didn't recover from it and I was howling with laugher. Then there was Mammon, one of those Scandi-noir things, which was on More 4, that is how intellectual it was. It couldn't have been bleaker and was good for four episodes, but unfortunately there were six episodes and it turned into the stupidest ball of stupidity."
Are you mellowing with age?
"No, I have two small children and the sleep deprivation alone is enough to push you into the bounds of psychosis. I'm not as heartless in print because I feel I have done that so I just pick different targets. I suppose I've changed though, because when I was 18 I'd just watch horrible films that all had 'harrowing' on the poster, but now I think, 'Ooh, I am a bit tired, I might watch Masterchef.' That does sound like mellowing doesn't it? I don't want to say I'm maturing though, maybe just rotting."
For the full interview buy TV & Satellite Week, which is on sale now
Get the What to Watch Newsletter
The latest updates, reviews and unmissable series to watch and more!
Caren has been a journalist specializing in TV for almost two decades and is a Senior Features Writer for TV Times, TV & Satellite Week and What's On TV magazines and she also writes for What to Watch.
Over the years, she has spent many a day in a muddy field or an on-set catering bus chatting to numerous stars on location including the likes of Olivia Colman, David Tennant, Suranne Jones, Jamie Dornan, Dame Judi Dench and Sir Derek Jacobi as well as Hollywood actors such as Glenn Close and Kiefer Sutherland.
Caren will happily sit down and watch any kind of telly (well, maybe not sci-fi!), but she particularly loves period dramas like Call the Midwife, Downton Abbey and The Crown and she's also a big fan of juicy crime thrillers from Line of Duty to Poirot.
In her spare time, Caren enjoys going to the cinema and theatre or curling up with a good book.