Chilling Adventures of Sabrina 'is a darker, more gothic, modern take,' says Miranda Otto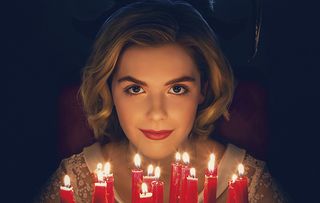 Miranda Otto on playing a stern sorceress in a dark revamp of 1990s comedy Sabrina the Teenage Witch…
Halloween is nearly upon us, and Chilling Adventures of Sabrina, Netflix's dark reworking of 1990s sitcom Sabrina the Teenage Witch, is set to send shivers down the spine.
The 10-part drama sees 18-year-old Kiernan Shipka (Mad Men) play half-witch/half-mortal Sabrina Spellman, who is torn over whether to embrace her magical ancestry.
Trying to encourage Sabrina are her witch aunts – uncompromising Zelda, played by Miranda Otto (The Lord of the Rings: The Two Towers), and homely Hilda (The Office's Lucy Davis) – who've raised Sabrina and are keen for her to follow her destiny. But sinister forces are also at work.
Miranda Otto, 50, tells us more about Netflix's Chilling Adventures of Sabrina….
How does this new version compare to the original?
Miranda Otto : "It's a darker, more gothic, horror-based modern take on the idea of what it would be like to be a girl caught between the human world and the witch world, and what both represent. I wasn't hugely familiar with the original comedy, so I didn't have any preconceived ideas."
How dark is the series?
MO: "We have the horror side, but there is also some clever humour so you will get a laugh too! We've used the idea of Sabrina being a half-breed to raise other issues about the search for identity and making a decision about how you want to live your life."
Describe Zelda's relationship with Sabrina…
MO: "Zelda is stern because she feels she has been given the duty of making sure that Sabrina becomes a fully fledged witch. She can be forceful, but she has a ferocious love for her and admires her strength."
What's Kiernan like in the role?
MO: "Kiernan is fantastic! She's fiercely intelligent and can bring drama, comedy and a frightening quality to Sabrina that plays into the horror."
Did you enjoy working with the black cats, who play Sabrina's familiar Salem?
"I enjoyed it when they came on set because Salem is a fun character. But they upstage us terribly!"
The show is available on Netflix from Friday 26th October.
Main pic: Netflix.
Get the latest updates, reviews and unmissable series to watch and more!
Thank you for signing up to Whattowatch. You will receive a verification email shortly.
There was a problem. Please refresh the page and try again.