'I love a good quiz!' Choirmaster Gareth Malone turns celebrity quizmaster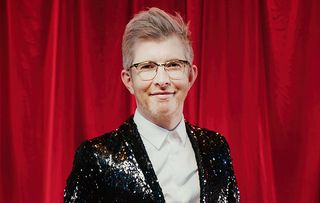 (Image credit: BBC)
The nation's favourite choirmaster, Gareth Malone, tells us about the celebrity music quiz he's hosting with guests including Ed Balls and Cold Feet's John Thompson...
With his succession of popular programmes, including The Choir, The Big Performance and Sing While You Work, Gareth Malone has become the nation's favourite choirmaster.
This Thursday the 42-year-old dad of two, who was awarded an OBE for his services to music in 2012, is hosting a special celebrity music quiz as part of the BBC's Music Day with panelists including Ed Balls and Cold Feet's John Thompson.
TV Times caught up with Gareth to chat celebrity guests, musical influences and discover the first, 'not very cool', single he ever bought.....
Gareth Malone's interview with TV Times
TV Times: It's in its fourth year now. What is BBC Music Day all about and what can we expect this year?
Gareth Malone: "It's basically a big celebration of the wonder of music in this country. There are going to be all kinds of events and shows across the UK as well as special shows on the radio and TV. The quiz will be a fun, light-hearted celebration of all things music. I love a good quiz so am really looking forward to it."
TV Times: Tell us about the celebs taking part….
GM: "As well as Ed and John, there's JB Gill from JLS, comedians Rob Rouse and Pippa Evans and saxophonist YolanDa Brown. They can all play musical instruments and in one round they have to identify tracks from hearing 4 notes and play their answers. "Don't say it: Play it!" Ed Balls took up the piano seriously after leaving parliament, John plays the drums and I've heard JB is good on the flute so that could be a highlight!"
TVT: Who were your biggest musical influences growing up?
GM: "I've had so many as there's always been a real mix of music through my life. My piano teachers and of course my music teacher at school was enormously influential. Later I went from being into dance music, to suddenly loving Led Zeppelin, then jazz stuff, meanwhile I'd still be going to orchestra concerts. I've always been at home with lots of different styles."
TVT: Who are your all time musical heroes?
GM: "Duke Ellington is an all time hero and Sebastian Bach too and I'm a big fan at the moment of Jacob Collier who can play anything on any instrument, upside-down, on any key, on any instrument. He's unbelievable."
TVT: What was the first ever record or CD you bought?
GM: "First Time by Robin Beck, which was the theme tune for Coca Cola and is classic 80s with lots of electric piano. Not a terribly cool choice! I had both the 7-inch and the 12-inch. I was keen."
TVT: What was the first concert you ever went to?
GM: "I was about 13 and saw Janet Jackson at Wembley Arena for her Rhythm Nation tour. A friend and I went by ourselves without parents so it was one of those big deal moments. I absolutely loved it and knew all the words to the songs.
"I never got to see Michael Jackson irritatingly, but at least I saw his sister. I love those big spectacles with amazing musicians and all the backing dancers and special effects, the lights and production. I saw Take That last year on their arena tour. They had this moment when they were all singing with rain lashing down on their faces. I was thinking, 'How are you doing this amazing thing?' It was absolutely brilliant."
TVT: Are your children, Esther and Gilbert into music?
GM: "Yes, I've sung to them ever since they were in the womb and encouraged them with music. We had a phase of The Jungle Book songs being played non-stop in the car but my son only ever wanted the elephant one.
"I remember trying to get him to sleep once and playing that one tune over and over on repeat. I've also sung Ten Green Bottles, optimistically starting with fifty green bottles and they're still awake when you get down to zero. Life goes from, 'I've just been to see this wonderful concert at the Proms' to 'I've just heard the elephant song 57 times!' That's being a parent for you."
TVT: You're so busy, what's your perfect weekend when you're not working?
GM: "A proper lie-in, wake up with a big cup of coffee, an hour or so at the piano, then a walk to the farmer's market, pick some stuff up, cook it and eat it with a glass of wine and fall asleep in front of the fire. I have to say I'm a cook with a limited repertoire. You won't be seeing me on Celebrity Masterchef or anything like that anytime soon."
Gareth Malone's All Star Music Quiz is on BBC2, Thursday Sept 27, 7pm
Get the latest updates, reviews and unmissable series to watch and more!
Thank you for signing up to Whattowatch. You will receive a verification email shortly.
There was a problem. Please refresh the page and try again.