Chris Fountain is 'life and soul of the party' role in new Kay Mellor drama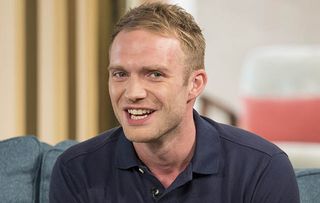 Former Hollyoaks and Corrie star Chris Fountain tells Soaplife about his new role in ITV drama, Girlfriends…
Chris Fountain returns to the small screen in a new ITV drama written by Kay Mellor
Chris Fountain reveals all to Soaplife
Soaplife: What are you up to, Chris?
Chris Fountain: "I'm appearing in Girlfriends, the new six-part Kay Mellor drama series, which starts on ITV in the New Year."
S: What's it about?
CF: "It's about three women named Sue, Gail and Linda. They're in their 50s and they've been best friends since they were teenagers. It's kind of ground-breaking because women of that age aren't usually series leads, but the wife, mother or sister of someone. But these women have a lot to say and there's a lot going on in their lives."
S: We hear it's an impressive cast…
CF: "It is. The trio is played by TV and film legends Zoe Wanamaker, Miranda Richardson and Phyllis Logan. I'm totally in awe of them. Just watching them work is like doing an acting masterclass."
S: Who are you playing?
CF: "A character called Ryan who's the son of Linda, played by Phyllis Logan. He's in charge of entertainments on a cruise ship and a 'life-and-soul-of-the-party' type."
S: A cruise ship, eh? Is that integral to the plot?
CF: "Kind of. The story opens with Linda and her husband, Mickey, who's Ryan's dad, celebrating their wedding anniversary on the ship. The trip's been arranged by Ryan and his sister, Ruby, who's a dancer on the ship. It's while Linda and Mickey are having the time of lives that something traumatic happens."
S: Wow! And what is that?
CF: "I'm not saying but Gail and Sue, and Ryan, too, are very supportive of Linda after the event happens. He's a bit of mummy's boy, which isn't a million miles away from me as I'm one, too. It's always my priority to make sure my mum's OK."
S: Are you excited about being in a Kay Mellor drama?
CF: "Really, really excited. When I was a kid, my mum was obsessed with Band of Gold, which Kay wrote. She thought it was the best thing on TV. She's excited about Girlfriends. It's incredible working with Kay. She hasn't only written Girlfriends, but she directs and produces it, too."
S: Does that make a difference?
CF: "Totally. It means if I'm not sure about a line, for instance, she's on the spot to ask and she gives you an answer straight away. You don't have to wait for anyone else to come back to you because the mastermind of the whole thing is on the floor with you."
S: Has working on Girlfriends been very different to starring in a soap?
CF: "You get more time to discuss the characters and scenes - and more time to rehearse. This gives you more understanding of what you're doing and where things are going."
Girlfriends will air on ITV in 2018
Get the What to Watch Newsletter
The latest updates, reviews and unmissable series to watch and more!