Chris Waddle: We used to have a full English breakfast before the match!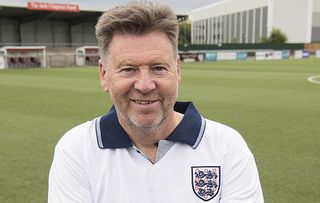 Harry Redknapp has the job of getting Chris Waddle and co into good shape for a big game against the Germans...
Tottenham legend Chris Waddle – one of the stars taking part in ITV's Harry Heroes tonight – recalls the days when he'd have a full English breakfast before the big match!
The former England star, whose illustrious career included spells for Newcastle, Tottenham and Marseille, says eating well wasn't part of the beautiful game when he started.
"Well I didn't discover diet, fitness until I went to Marseille, that would've been '89, before that there were little bits of new ideas creeping in," says Chris, 58.
"When I was at Tottenham and Newcastle you'd get up in the morning and have a full English before the match, and then at about 12.30 you'd have steak, chips, mushrooms... people back then didn't know about pastas and this and that and rice, but when I went to Marseille, it opened me eyes. I didn't realise, when they were telling me things to eat, the importance of it."
Chris is seen being put through his paces alongside the likes of Neil "Razor" Ruddock and Paul Merson as Harry prepares the legends for a game against the Germans.
So, why did Chris leap at the chance to take part?
"I thought it would be really good to be back in shape again, the opportunity came along and I loved the idea and thought it would be interesting to see what happens.
"I think the hard side, for not just me but for a lot of the lads, is obviously you're invited to parties and weekends away and you've got to almost police yourself and it's very hard.
"Sometimes you can afford to let your hair down and catch up Monday, Tuesday and Wednesday, but overall I would say, if you look at the results we've had, the lads have had a real good go at it."
Harry's Heroes: The Full English, featuring Chris Waddle, starts tonight on ITV at 9pm.
Get the latest updates, reviews and unmissable series to watch and more!
Thank you for signing up to Whattowatch. You will receive a verification email shortly.
There was a problem. Please refresh the page and try again.