Citizen Khan's Adil Ray: 'It's brilliant having classic sitcom stars like Peter Bowles on the show'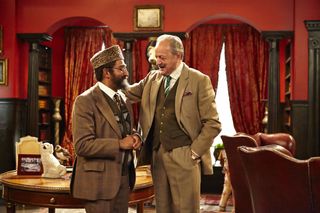 (Image credit: BBC/Neil Sherwood)
Adil Ray reveals the new series of Citizen Khan gets off to a first class start when To The Manor Born legend Peter Bowles guest stars!
You've a great guest star in the opening episode of the new series of Citizen Khan. Tell us more…
"Peter Bowles joins us for this episode. He plays lord of the manor, Lord Anstruther, and Mr Khan tries to hobnob with him. I remember watching Peter and Penelope Keith on To the Manor Born with my mum as a child. So to get a call from him saying he'd read the script and wanted the part felt fantastic!"
Who else will be popping up during the seven-part series?
"We also have other brilliantly funny people like Ronni Ancona and Steve Furst. Both are such funny people and fantastic to have on set. We also have Outnumbered star Tyger Drew Honey, so it's a lovely mix of people. It's just brilliant having classic sitcom stars on the show."
What's new with the Khan family when we rejoin them?
"Baby Mohammad's arrival at Christmas has changed everything. Mr Khan's very proud of his grandson and in one episode we'll see him on a mission to prove Mohammad's more of a Khan baby than the in-laws baby! Also this year we meet youngest daughter Alia's boyfriend, which turns out to be interesting. We have lots more stories to tell."
Will we have another Christmas special to look forward to?
"Yes! We always like to put the Khans right in the heart of Christmas so in the past we've had Mr Khan dressed as Father Christmas, coming down chimneys and flying through the air with a star. This year it's very much of the same of ilk - we take a little bit of artistic license and again have Mr Khan doing something very Christmassy…"
Would you ever like to make a Citizen Khan movie?
"Potentially yes I'd love to do something like that. We're taking one step at a time at the moment and looking forward to the new series. We'd also potentially like to do a live tour, but this needs to be confirmed."
What makes Citizen Khan suitable to a live tour?
"I think because we already film in front of a live studio audience it just feels like we could probably do that with a slightly bigger audience in theatres or small arenas. It would be great to maybe break the fourth wall and interact with the audience! Mr Khan coming out and chatting to audience members would be fantastic. It could be a great family night out."
Where else would you like to take the show if you could?
"Well if a live show worked well why not go and do a film. Mr Khan going to America sounds fun to me. The chaos he could create would be fantastic!"
The new series of Citizen Khan begins on BBC1 at 8.30pm on Firday, October 30.
Get the latest updates, reviews and unmissable series to watch and more!
Thank you for signing up to Whattowatch. You will receive a verification email shortly.
There was a problem. Please refresh the page and try again.