Cold Feet's John Thomson: 'I want to play a Bond villain'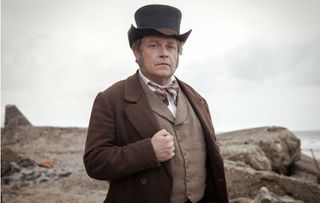 Cold Feet star John Thomson has revealed he would like to play a Bond villain as he prepares for his next role in a 19th-century period drama.
For most of his career John Thomson has kept audiences entertained with hilarious comedy roles in sketches like The Fast Show or as children's entertainer Jesse Chadwick in Corrie.
But since this year's successful Cold Feet comeback John has been praised for his portrayal of character Pete during his battle with depression.
Last month John explained how filming the emotional scenes 'wiped him out', but said he felt blessed to be playing Pete Gifford again after 13 years.
The 47-year-old actor is now set to star as a serious detective figure in 19th century period drama series, The Moonstone, and says he hopes the part leads to more gritty roles in future.
"It was great to get my teeth into something because I hadn't done a period drama before – I've only played a detective in a sketch on The Fast Show, and that doesn't count," the Cold Feet star told The Sun. "It was very different to anything I've done before and it was hard work, but I loved it.
"I think people expect a certain kind of 'John Thomson' when they see my name," he admitted. "They want me to be the comedy one. But I'm hoping this part can open more doors."
In the BBC's adaptation of the classic Wilkie Collins novel – airing over five days this week – John plays Sergeant Cuff, a detective with almost supernatural powers.
He is called out of retirement by an adventurer named Franklin Blake, who hopes to win back his one true love by finding her stolen diamond, the priceless Moonstone.
"The Moonstone is the first-ever detective story, they say, and one of the greatest detective stories ever told," said John.
"It's very entertaining too. Cuff is a genius. It's said that [Sherlock Holmes creator] Arthur Conan Doyle was heavily influenced by Collins' book, and I'm the detective, so in a way I'm playing Sherlock Holmes, right? I'm the new Sherlock. Cuff does all the marvellous deductions in the same way. He can tell a lot from a smudge of paint or a spot of ink.
"And now that I've played Sherlock, I can probably move on to being a Bond villain pretty easily, right? I love Bond; I think I could do that really well."
His new role cements a great year for John, who was thrilled with the audience reaction to the return of Cold Feet, which ITV have recently confirmed will return for another series.
The Moonstone, starts on Monday 31st Oct at 2.15pm, BBC One
Get the latest updates, reviews and unmissable series to watch and more!
Thank you for signing up to Whattowatch. You will receive a verification email shortly.
There was a problem. Please refresh the page and try again.