John Thomson on Cold Feet reunion: 'It's a bit like recruiting all the old cons for another job!' (VIDEO)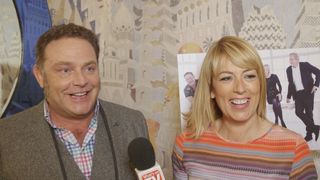 Cold Feet stars John Thomson and Fay Ripley talk about reuniting after 13 years and what's to come for their characters in the show...
After 13 years away, Cold Feet certainly came back with a bang on Monday night! The opening credits were still rolling as James Nesbitt's Adam told best mate Pete and wife Jenny that, after a whirlwind six-month romance, he was getting married!
As Adam flew into Manchester from Singapore – where he'd met bride-to-be Angela – to reunite with Pete (John Thomson), Jenny (Fay Ripley), David (Robert Bathurst) and Karen (Hermione Norris) to fill them in on his upcoming nuptials, it was like they'd never been away from each other – or our TV screens!
Talking about his decision to reprise his role of hapless Pete, John Thomson recently told What's on TV: "It was a bit like a bank job, like a heist, where you've all done a job back in the day and, they all call round again, and there's a guy who comes out from under a car and says: 'Nah, I'm going straight mate, I don't wanna do another one'. It's a bit like recruiting all the old cons for another job!"
But co-star Fay was thrilled that they'd all decided to sign up for a new series. "It literally was walking into a room with your old mates," she said. "We wondered what's it gonna be like and, actually, one second and we were right in it and I'm still laughing at John's bad jokes."
Joking aside, there was lots of high drama in episode one, particularly when, having seen someone who was the spitting image of his late wife Rachel (played back then by Helen Baxendale), Adam tripped on an airport travelator, fell and got rushed to hospital!
There was plenty of emotion too as, later, a teary Adam tried to bond with his slightly wayward teenage son, Matthew (Ceallach Spellman). And then, of course, there were tears of joy as Adam and Angela tied the knot!
And how's life been treating the others? Well, although David and Karen are separated, it almost seems like David regrets leaving Karen for divorce lawyer Robyn. Watch this space, we think! Meanwhile, Pete and Jenny seemed happy enough but it was soon revealed that Pete's been struggling financially.
And, as Cold Feet continues next week, more is revealed about Pete's money worries. "Pete and Jenny are feeling the pinch," revealed John. "They're in a three-job house and they're trying to make ends meet."
John reckons it's the ordinary lives of the characters in Cold Feet that will make people take the drama to their hearts all over again…
"They are ordinary lives that hopefully people can identify with," said John. "That's the beauty of Cold Feet, it's ordinary things, hopefully made extraordinary."
Cold Feet continues next Monday at 9pm on ITV.
Get the latest updates, reviews and unmissable series to watch and more!
Thank you for signing up to Whattowatch. You will receive a verification email shortly.
There was a problem. Please refresh the page and try again.