Coronation Street star Katie McGlynn on Sinead's cancer scare: 'This could be an exit storyline for me!'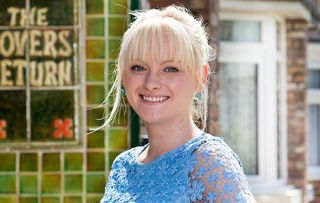 (Image credit: Joseph Scanlon)
The Coronation Street actress reveals the future for Sinead will be a 'long and rocky road'
As Sinead Tinker takes on the toughest challenge of her life, Coronation Street actress Katie McGlynn reveals exactly what it takes to play a character who is about to make a life-changing decision that no one should ever have to face…
 "I felt so sad for Sinead when I found out about this storyline, but I was happy for me! As an actress it's a great challenge. I've been at Corrie for 6 years and a storyline like this is my dream."
But as always when Coronation Street tackles a topic like this, there's a huge responsibility to get the details right. Katie revealed that she's been working closely with a charity called Mummy's Star, a brilliant organisation who support pregnant women facing cancer.
 "I was really helpful because as an actress you can only put yourself in that position to a certain extent. But meeting people who have been through the same thing as Sinead is on another level.
"The founder of the charity is the husband of someone who Sinead's story happened to in real life. His wife got cervical cancer while she was pregnant… so he's basically Daniel."
Katie also confessed that this storyline is already taking its toll on her… "I'm playing a fictional character and I get to go home at the end of the day and I'm not ill, but it can be emotionally draining.
"During the week it's hard because you're in every day and rehearsing every evening. I just make sure I've got something planned for the weekend to take my mind off things. It really tires you out, I have been going to bed very early!"
When quizzed on why Sinead keeps such a huge secret from Daniel, Katie's very protective of the way her character is dealing with her cancer news… "The last thing Sinead wants is to crush Daniel's world. She was the happiest she has ever been before she found out this news, and she knows it's the same for him."
Katie's also convinced that while Daniel will put Sinead first when it comes to making choices about their future, Sinead could have a different opinion… "She's got tunnel vision. Her life goal is to have a family and she's so close to achieving that. Her main priority will be her child."
When asked if whether this could be an exit storyline for Sinead, Katie admitted: "Yes, definitely. I can't tease anything though because I don't know how this storyline ends. I just know it's going to be a long and rocky road."
 Coronation Street continues on ITV.
Get the latest updates, reviews and unmissable series to watch and more!
Thank you for signing up to Whattowatch. You will receive a verification email shortly.
There was a problem. Please refresh the page and try again.