Coronation Street's Sue Nicholls reveals why Audrey Roberts will be 'devastated'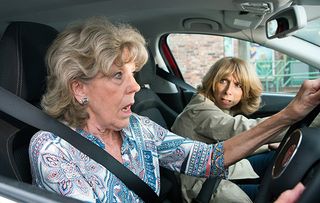 (Image credit: Andrew Boyce)
There are some tough times ahead for one of Coronation Street's most loved veterans.
Next week's 9pm Coronation Street episode is going to be a difficult one for Audrey Roberts, who will finally discover the truth about who stole her inheritance money. The family are headed on a trip to the countryside together, where, after a string of unfortunate events, David Platt will reveal the truth.
Sue Nicholls has revealed to Digital Spy how exactly she will take the news that it was Lewis that stole from her.
"For her it is not even about the money, it is that they allowed her to think that Lewis, the man she loved, had done this to her," she told Digital Spy.
"You can repay money but they can never give back to her the fact that they ruined the name of the person she really loved. She is devastated at that."
So has Audrey resigned herself to the fact that the money is gone for good?
"Yes, she has in a way. She isn't one to show that she still thinks of Lewis. She has said that she feels a fool and that she shouldn't have got drawn in by him. She was in love with him and it wasn't just a fling.
"Somewhere along the line, Lewis stayed in her heart so she feels very let down and hurt. As time has gone by, she doesn't want to think about it that much.
"Audrey now thinks Gail was right about Lewis. It suits the boys to let her carry on believing that. But Audrey didn't need to feel any of those things, because he hadn't actually done it."
Looking on the bright side, at least Sue enjoyed being on location while filming the dramatic scenes.
"It was lovely and I enjoyed it very much. It was a lovely place. Everyone had a lovely time and the weather was beautiful. We all get on so well and look out for each other. We had many laughs filming it.
"The holiday is all ticking along and it is the holiday Audrey hoped it would be. If they knew what was going on in the background, obviously it would be a different story, but for now it is just a fun family holiday."
Coronation Street airs at 9pm all next week on ITV
Get the latest updates, reviews and unmissable series to watch and more!
Thank you for signing up to Whattowatch. You will receive a verification email shortly.
There was a problem. Please refresh the page and try again.