Couch Potato Pickings: Cocktail, and my top 10 film cocktails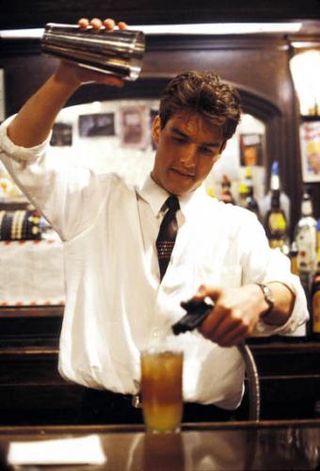 I purchased a cocktail-making masterclass for my partner's birthday present this year. What a treat!
Unfortunately, however, said class ended up being hogged by a giggling hen party with little interest in the chemistry of cocktail-making, but much interest in getting the barman to perform the bottle and cocktail shaker juggling dance a la Tom Cruise.
http://youtube.com/v/5YbjzztYbUo
This film has a lot to answer for.
Fortunately the masterclass barman was there to teach, not perform circus tricks, and my partner was determined to learn some top tips, and clearly did, judging by the deliciously blended Old Fashioned I was served the other evening.
What a relief. I'm a cocktail snob you see. I love cocktails. When I ask for a Martini I don't expect a Cinzano on the rocks thank you very much. I expect to be served gin strained with just a sniff of Vermouth and stirred not shaken (you've also got a lot to answer for Mr Bond).
Similarly, when I request a Mint Julep, I expect a nod of acknowledgment to the southern front porch tipple of Gone With the Wind, not a blank look. I certainly don't appreciate the offer of a Mojito as an alternative, just because the drink also features mint as an ingredient.
Yes I've been the victim of many cocktail crimes, big time. Unsurprisingly, whenever someone suggests a 'cocktail bar' as a place to go, I'm always wary. Do they mean a place where the art of stirring, blending and straining is respected and observed with perfection, or do they mean a place where a bucket of fruit juice and rum shaken is furiously by an attention-seeking performance artist who fancies himself as the young Tom Cruise in this film?
Check out my top ten cocktails, and the great films that celebrate them.
1. Mint Julep
I don't think there are any references to this cocktail in Gone With the Wind, but I'd say there's something unmistakably minty going on in the drinks they're guzzling on that front porch, so it has to be this southern speciality.
2. Martini
Gin and Vermouth, that's a Martini. But don't take Marilyn's advice from The Seven Year Itch. It should never be served in a big tall glass.
3. Gibson
Bette Davis clutches a glass of this (basically a Martini with an onion rather than an olive) as she utters that immortal line in All About Eve.
4. Manhattan
In Some Like it Hot the girls throw an impromptu party on the train during which they pool their smuggled alcohol to make Manhattans. They mention using bourbon whiskey rather than Canadian, and mix the cocktail in a hot water bottle.
5. Bloody Mary
Chevy Chase orders this beautiful beverage in Fletch. For me it has to be made with tomato juice, vodka, ice, lemon juice, Worcester sauce, Tabasco, horseradish and that secret ingredient Sherry. Mmm.
A popular drink at Rick's café in Casablanca
7. 7 and7
That's 7Up and Seagram's Seven in case you didn't know. Travolta's Tony Manero orders a 7&7 three times in Saturday Night Fever.
8. Old Fashioned
Bette and Claude drink this classic cocktail in that old fashioned film Now, Voyager
9. Margarita
Julia and her 'best friend' Dermot order these tequila tipples in My Best Friend's wedding.
10. White Russian
Jeff Bridges drinks loads of these in The Big Lebowski.
Showing on FilmFour at 9pm
Get the latest updates, reviews and unmissable series to watch and more!
Thank you for signing up to Whattowatch. You will receive a verification email shortly.
There was a problem. Please refresh the page and try again.