Couch Potato Pickings | The Duchess - and wigs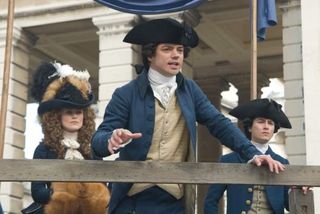 At a recent fancy dress party I sported a long blonde wig (I'm usually a brunette with a shortish do).
After a few hours I really got in touch with my inner blonde, and so did everyone else. So, when a trio of strong male friends decided to spin me round on the dancefloor and the wig fell off, I was mortified. For a second or two I sat, dazed on the floor, the gusset from a pair of old tights slapped to my head and the jumble of blonde locks in my hands. Then when the daze wore off the horror kicked in - my disguise had dropped and the real me had been exposed! With a bizarre level of panic characterising my actions, I attempted to restore my costume as best I could before too many people saw me.
Until seeing The Duchess, I've been wondering why I became so perturbed by this brief party mishap. Why was my reaction so extreme, (albeit very briefly extreme)?
In her role as Princess Diana's ancestor Georgiana Spencer in 18th century costume drama The Duchess, Keira Knightley gets to wear more wigs than Dolly Parton. Like Princess Diana, Keira's Georgiana is married at an early age to a powerful and well-respected man – the Duke of Devonshire (Ralph Fiennes). With her trend-setting and influential public image, duchess Georgiana finds herself enjoying much adoration from her public. However, behind closed doors, her life is far from ideal.
Georgiana, Duchess of Devonshire's story parallels that of Princess Diana's in many more ways, but you'll have to see the film to find out more about that.
For me a pivotal moment in this engrossing historical story is when the increasingly downtrodden Georgiana has clearly had too much to drink and stumbles into a society gathering. There her wig catches fire, and she finds herself on the floor – shocked, winded and wigless, while her courtiers attempt to put out the burning barnett.
At this moment in the film, Georgiana's unhappy private life is glimpsed by the outside world. Recognising this, I gained some insight into my own wig loss episode. When you start being treated in a certain way by those around you, you get used to it, and when those people get reminded that the image you're portraying is not the real you, the magic is broken.
In Georgiana's case, her fancy gowns and fussy hair concoctions conjure up a magic that masks her unhappy private life. To see this magic threatened in this scene marks an important moment in her story.
Today, more than ever, we seek out the private life of public figures, but really, how much do we really want to see the person behind the mask? Isn't it important to preserve the carefully-crafted images of our very public figures. They've crafted those images for us, and if we attempt to destroy those by getting glimpses of their private lives we risk damaging the stars we fell in love with (Britney Spears' own infamous hair-loss episode being a case in point).
I read a story a while ago about my idol Dolly Parton who apparently suffered the accidental loss of her wig when among colleagues in the early part of her career and reacted very badly. No doubt this incident saw her seriously managing the risk of that happening again, but the fact she still regularly jokes about her wig falling off indicates how great the fear is for her.
To find out what the circumstances were that led Georgiana to come undone, you'll have to watch the film. It's definitely worth the watch. Personally, I think this is the best performance of Keira's career so far. I was very emotional by the end of this movie.
I wonder which wig was Keira's favourite?
The Duchess is showing on Sky Movies Premiere today at 10am and 8pm, and also throughout the week.
Get the latest updates, reviews and unmissable series to watch and more!
Thank you for signing up to Whattowatch. You will receive a verification email shortly.
There was a problem. Please refresh the page and try again.