Couch Potato Wedges - dipping into some Serendipity trivia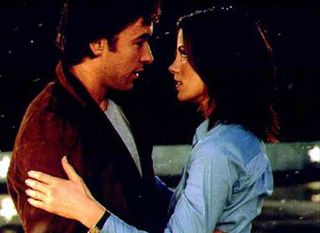 The last time I considered blogging about Serendipity, I decided to let fate decide whether I should do so, and fate decided no.
This time, however, as I began to consider whether I should, or shouldn't, I got a sign, so now I have to follow through.
So here goes - ten things you might or might not know about Serendipity:
Serendipity means a 'fortunate accident'. The film's all about fate and destiny and how an awareness of life's fortunate accidents makes a person feel alive.
It's the story of Sara (Kate Beckinsale) and Jonathan (John Cusack) - two strangers who grapple over a pair of gloves in busy Bloomingdales before Christmas. They experience an immediate connection so decide to spend a magical evening together. However, when it comes to meeting again, Sara decides to let fate decide. She writes her details in a book which she sells to a secondhand bookshop and he writes his on a five dollar bill and they go their separate ways.
Nothing happens by chance in this movie and timing is everything. For this reason, clocks, the seasons, and scenes where day turns to night are prominent. Slow motion and time lapse photography are also rife throughout.
Did I mention, I love this film? I'm not quite sure why I love it so much, but I think the detail has something to do with it. Little things are very significant and you have to be paying attention to spot the detail. Pay attention to the handbag, the dalmatian, the hotel, the book, the gloves, the golfing range, the gum, the jacket - that's all I'm saying.
OK, I've made it sound really new agey so far haven't I? But, don't worry, this film doesn't take itself too seriously. In fact it's packed with comedy. As Jonathan, John Cusack delivers some glorious comedy moments as well as moments of genuine sentiment. He's at his comic best when sharing the screen with Jeremy Piven (Jonathan's best friend). There are also some great comic treats from Eugene Levy's shop assistant, and Molly Shannon as Sara's friend.
The Sara role was originally written as an American, but director Peter Chelsom decided to change it to an English woman so that Kate Beckinsale could be as natural and as loose as possible.
The film begins and ends at Christmas but was shot in July, August and September, so there's loads of fake snow.
Lucy Gordon - the actress who played Sara's sister committed suicide in 2009.
The movie plays on the 'your fate is in the stars' theme with a scene where Jonathan tells Sara that her freckles look like the Cassiopeia star formation and draws on her arm (actually it's not really Kate's arm). Later Kate sees Cassiopeia while sitting on a Central Park bench and sees it as a sign. Really, within the context of this film, somehow it works. Yeah, I know what you're thinking - it sounds incredibly corny and incredibly unbelievable, especially since you can't actually see the stars in New York. That's the joy of this film. It's got some cheesy lines, but gets away with it becuase it's such a magical fairytale.
In case you were wondering, the sign that nudged me into writing about this movie was Annie Lennox's Waiting in Vain coming onto the radio. It features on the Serendipity soundtrack.
Serendipity is showing tonight (Sunday 9th January) on BBC1 at 11.25pm
Get the What to Watch Newsletter
The latest updates, reviews and unmissable series to watch and more!