Couch Potato's Tuesday Trivia: Thirteen - Auditions for this movie took place in a bed.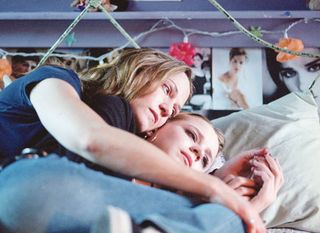 And it happens to be the very same bed where R-Patz kissed K-Stew for the Twilight screen test.
And that'll be because the 2003 drama Thirteen was directed and co-written by Catherine Hardwicke - director of the first Twilight movie.
It stars Evan Rachel Wood as Tracy - a 13-year-old girl who is led astray by her troubled classmate Evie (Nikki Reed).
And it was Nikki Reed, this 14-year-old star, who co-wrote the Thirteen screenplay with Hardwicke when she was just 13 herself.
Perhaps this is why this film is so brilliantly well-observed.
It's actually the Tracy character that's based on Reed's own passage into puberty, but Hardwicke didn't want Reed to play herself so she held auditions for the role. And that's when she asked Evan Rachel Wood to get into her bed with Reed - the same bed that was used for the Twilight auditions.
I wonder how much she'd get for that bed on e-Bay...
Anyway, Evan Rachel Wood got the role - and her powerful performance earned her a Golden Globe nomination http://youtube.com/v/7yxrc2W-czA Thirteen is showing tonight - 22nd March - at 10.35pm on ITV1.
Discuss this film on our Movie Talk Facebook page or Twitter stream
Get the What to Watch Newsletter
The latest updates, reviews and unmissable series to watch and more!