Dancing on Ice contestant Stephanie Waring: 'I'm hoping to get quite a bit of skating practise in over Christmas'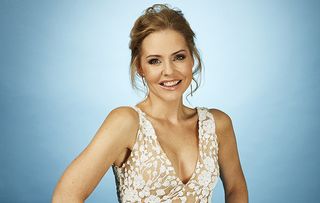 (Image credit: ITV)
Hollyoaks star Stephanie Waring tells Soaplife she is thrilled to be part of the relaunch of Dancing on Ice
Hollyoaks star Stephanie Waring reveals what she hopes to get out of Dancing on Ice – besides a better-shaped bum!
What's the story?
Stephanie Waring, who plays mischievous Cindy Savage in Hollyoaks, already has a body to die for. But she thinks it needs improvement in one particular area… And, as a competitor on the revamped Dancing on Ice, which starts in the New Year, Steph's hoping that all the exercise she gets learning to ice skate and dance will give her an a very pert posterior! "If it gives me a new bum I'll be happy," she laughed, as Soaplife chatted to her. "Learning to ice skate is incredibly good exercise for your legs and bum. You're wearing heavy boots and constantly doing leg lifts to the side and the back so your legs really do get a strenuous work-out. Through training I've discovered that my left leg is weaker than my right one so I'm going to have to work on that. Bring it on, though!"
Stephanie Waring reveals all to Soaplife
Soaplife: Have you done much ice-skating in the past, Stephanie?
Stephanie Waring: "Not really. As a teenager, I skated my way around the edges of a rink but that's pretty much the extent of it. Training for Dancing on Ice is a whole different thing and very technical, never mind the lifts and closing your blades on the ice! The first day was pretty tough. I fell over once, but that wasn't on camera, thank God! I was going backwards and I went to push myself off and I lost my footing and sort of landed on my elbow."
S: Ouch! But you're excited abouot the contest, aren't you?
SW: "So excited! I'm completely over the moon, although very nervous about the live shows."
S: We hear your yoga has come in handy!
SW: " [Laughs] Actually, that was a bit of a joke! I haven't had much time to do any yoga lately but it is probably helping my core strength, balance and flexibility. I guess it does come into it."
S: Does being in the first intake of the revamped Dancing on Ice feel special?
SW: "You know, I was so sad when the show came off air four years ago. It was one of my favourite reality shows on TV and I watched every series. So, to be part of the first re-launched series is very special. There's a lot of buzz about it and I can't wait to show off what I've learned. Then there's the whole glamour element to it – the costumes, hair and make-up. . ."
S: Are you squeezing your training in around Hollyoaks?
SW: "Yeah, I'm arranging it around the schedule and training as and when I can – weekends and after work. It's very full on but I'm loving it. Fortunately, I'm not involved in a really heavy storyline in the run-up to Christmas and New Year otherwise I wouldn't have managed to do it. Hollyoaks are being really good where shooting my scenes are concerned."
S: Are you in it to win it?
SW: "I've discovered I'm quite competitive and obviously would love to win but, to be honest, I just want to get as far as I can. I intend to do my best and make my kids, Lexi and Mia, proud."
S: Are they excited about it?
SW: "Neither of them have seen the show but my elder daughter knows what it is and, yes, she is very excited. My younger daughter probably won't get what it's all about until she sees me skating on TV. I've shown them both You Tube clips of the show and really love the Jorgie Porter footage. Jorgie's one of my all-time favourite Dancing on Ice competitors and an old friend and colleague, of course."
S: Have you spoken to her about competing in the show?
SW: "Yes, we've chatted. 'Practise, practise, practise' is her advice – and also 'watch those blades!' I also talk to Gary Lucy and Kieron Richardson, who have competed in the show. It's nice to chat to people who've been through the 'DOI' experience themselves."
S: You've been partnered with Sylvain Longchambon – are you happy about that?
SW: "Very happy. He's strong, a great skater and teacher, and we're having a really good time together. Hopefully, we'll have some good chemistry on the ice."
S: What are you doing for Christmas this year?
SW: "I haven't really thought about it yet but it will probably be the same thing we do every year – a lovely day spent with family. I'm hoping to get quite a bit of skating practise in over Christmas, though. I'll have more time as Hollyoaks take a break from filming. It's regular practise that keeps you on top of the training. When you've had a few days away from the rink, it's a bit like starting all over again when you get back on the ice!"
Dancing on Ice returns to ITV in early 2018
Hollyoaks, C4
Get the What to Watch Newsletter
The latest updates, reviews and unmissable series to watch and more!