Dawn French: 'I quite liked filming sensual lovemaking scenes in Delicious'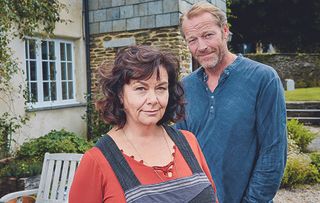 TV comedy star Dawn French has revealed she enjoyed filming 'sensual lovemaking scenes' with Game Of Thrones' Iain Glen for forthcoming drama series Delicious.
Dawn French said she enjoyed filming 'sensual' scenes with Game Of Thrones star Iain Glen in new four-part drama Delicious.
Dawn, 59, made her confession during an appearance on The Graham Norton Show, also revealing that viewers will 'get to see a lot' of Iain, 55, in the programme.
She said: "I have some sensual lovemaking scenes which are really weird to do on film.
"I'm quite new to that, but I quite liked it I have to say!"
"It is Iain Glen, for heaven's sake, and you get to see a lot of him, which is very nice."
https://youtu.be/rpt-adOMqwk
The new series will show viewers a different side to Dawn, who is best known for comedy shows such as French And Saunders and The Vicar Of Dibley.
Love triangle drama Delicious sees Dawn's character, a passionate cook called Gina, go head-to-head with Sam, played by Emilia Fox, after both are betrayed by Iain's character Leo.
While on Graham's couch, Dawn revealed that she often gets nervous when meeting celebrities she has previously impersonated.
She said: "I hope we were never cruel about anybody – we might have been a bit cheeky.
"Most people have liked it but some have run away from us. I met Madonna recently for the first time ever and she gave me absolutely no feedback whatsoever."
Broadcaster Michael Parkinson, another guest on the BBC programme, said that male guests would 'refuse' to appear on his long-running talk show if they knew French was on it.
Michael, 81, said: "Attractive male guests used to refuse to come on if they knew Dawn was on the show!
"I made the mistake of telling her that Tom Jones' agent had asked that no one throw knickers at Tom and Dawn and Jennifer (Saunders) turned up and covered him in large bloomers."
Delicious premieres on Friday, December 30 on Sky1 at 9pm
Get the latest updates, reviews and unmissable series to watch and more!
Thank you for signing up to Whattowatch. You will receive a verification email shortly.
There was a problem. Please refresh the page and try again.