Death in Paradise - 6 SECRETS from the set of the BBC1 hit!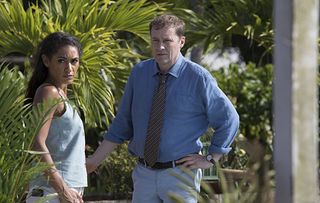 (Image credit: BBC/Red Planet Pictures/Denis Gu)
We visit the Carribbean islands of Guadeloupe, where the show is shot, to discover what goes on behind the scenes as Death in Paradise continues tonight on BBC1
Death in Paradise, starring Ardal O'Hanlon as DI Jack Mooney, is one of the BBC's biggest hits. Here's six secrets from the show's set...
1. A flat-pack shack
The Inspector's shack is located on a beautiful stretch of La Perle Beach, a short drive away from the police station. But it's not a permanent structure – it takes two weeks to unpack it from a container every year. It's used for both exterior and interior shots. "We rebuild it every year and it's all real inside," says producer Tim Key. "We shoot inside there. Of course we could have done those scenes in Pinewood but it wouldn't feel the same."
[Check out our preview of tonight's episode]
2. Community service
The police station, again used for both exteriors and interiors, was previously a parish community centre next to the church in the town of Deshaies. "We get on very well with the priest, we've worked with him since the beginning," says Tim. "We built him a new office on the side of the building to say thank you." During filming the crew has to pause for church bells, which peal every 15 minutes, and also compete with the sound of crowing roosters, who wander freely round the set.
3. You can eat at Catherine's Bar from Death in Paradise!
Catherine's bar is a real-life beachside restaurant called "Le Madras," frequented by locals and serving wine, seafood and desserts. It's a five minute walk from the "police station" and was rebuilt and reinforced by the production team after being damaged in last year's hurricane.
4. Nudity and floops
It's sweaty business filming in Caribbean sunshine, so the team do everything they can to cope with the heat. "There is a lot of nudity and stripping!" says Tim. "People are very reserved and British when they arrive, but very soon they are wandering around topless and running into the sea. Also, 'floops ' are very popular here. They are fruit-flavoured drinks made of shaved ice, and they're delicious!"
5. Harry's not real!
Harry the lizard isn't actually a living being – he's made by CGI trickery! "He's a nightmare to work with!" laughs Tim. "Ardal has to film those scenes looking at a little silver ball instead. A lot of people still don't realise Harry's not a real lizard..." Sorry to spoil it!
6. Local talent
While many of the guest stars fly in from the UK, all of the supporting artists are local people. "I think at the start they were slightly baffled by us, then when French TV started showing Death in Paradise it all made sense to them," says Tim. Half of the crew are also local and the team works with graduates from a film school on Guadeloupe.
Death in Paradise continues on BBC1 tonight at 9pm.
Get the latest updates, reviews and unmissable series to watch and more!
Thank you for signing up to Whattowatch. You will receive a verification email shortly.
There was a problem. Please refresh the page and try again.