Doctor Who's Arthur Darvill leads The Legends Of Tomorrow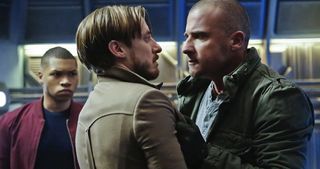 Former Doctor Who star Arthur Darvill is travelling through space and time once more, but this time he's in a new US superhero series based on the world of DC Comics.
Arthur, best known as The Doctor's former sidekick Rory Williams, plays Rip Hunter in Legends Of Tomorrow. He's a time-travelling rogue who knows he must save the world from an evil super-villain after glimpsing the planet's dark and terrible future in this week's first episode.
'Rip is arrogant and cocky,' says Arthur, who also starred as alcoholic vicar Paul Coates in hit ITV drama Broadchurch. 'He thinks he can change the world and right all the wrongs of his time, but he soon realises he's going to need some help!'
Rip begins recruiting a team of superheroes and villains to help defeat Vandal Savage, a 4,000-year-old immortal who is planning to destroy Earth and time itself!
Uniting characters from Arrow and The Flash, two other series inspired by DC comics, Rip puts together a unit he hopes will be able to bring down the formidable Savage, but keeping everyone's ego in check isn't easy!
'There's a big power struggle within the group,' Arthur explains. 'You can only lead if the people you're leading want to be led, so he's got an uphill struggle. But when the team realises what Vandal Savage is like, it makes them want to fight because they're facing such a horrific bad guy!'
Starring alongside Arthur are: Prison Break stars Dominic Purcell as Heat Wave and Wentworth Miller as Captain Cold; Edge Of Tomorrow star Franz Drameh as Firestorm; Arrow actress Caity Lotz as White Canary; and The Flash actor Victor Garber as Dr Martin Stein.
And although the show is yet to be shown in the UK, it already has one young fan…
'My eight-year-old self is going completely nuts,' he admits. 'I make video calls to my friends and family from the set so I can show them around my spaceship!'
DC Legends of Tomorrow begins on Sky 1 tomorrow (3 March) at 8.00pm.
You can also watch DC Legends Of Tomorrow contract-free with the NOW TV Entertainment Month Pass from Thursday 3 March
Thank you for signing up to Whattowatch. You will receive a verification email shortly.
There was a problem. Please refresh the page and try again.