The Durrells' Milo Parker: 'I've learned the secret is to respect the animals, then they respect you'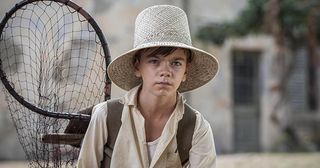 Milo Parker reveals he's learnt from painful experience how to deal with the animals on the set of the ITV drama
Spare a thought for The Durrells star Milo Parker. While he gets to play with a menagerie of cute animals in his role as budding conservationist Gerry Durrell, he also has to befriend birds with very sharp beaks.
Here Milo, who has previously acted opposite Sir Ian McKellen in the film Mr Holmes and with Eva Green in Miss Peregrine's Home for Peculiar Children, tells TV Times the truth about those wonderful animal scenes...
Which were the scariest animals to work with? "I was very nervous of the pelicans. They're called 'Pelican' and 'Pelican't' and one of them bit my shoulder in the middle of a take last year. I'm more comfortable with them this series. We also worked with an otter this year and I got bitten on my knee. It wasn't that bad, but from that point on I was nervous…"
Were all the birds tricky? "I loved working with the lanner falcon this year, I was in awe. It's an amazing bird, and I was impressed how our bird man Anthony managed to train him. He treats all the birds like people, it's incredible. I had an entertaining scene with the magpies – one of them escaped and Anthony had to save the day!"
Which other animals misbehaved? "The donkeys were sweet but difficult to work with. We had two this year: one in Corfu called Coco, who was a dream, and then one at Ealing Studios called Nugget. Let's just say Nugget was a little bit temperamental! I've learned the secret is to respect the animals, then they respect you… they don't listen to stage directions though."
We hear Mossop, the dog, is your favourite? "Yes, she plays Roger and she's an absolute dream. She remembered me from last year and made a huge fuss when she saw me, I had a very wet face! One time she barked at us while we were shooting a scene without her because she wanted to play with us. Sometimes I go swimming in the sea with her at the weekend."
Do you have a dog at home? "Yes, we have Cybil, a toy-poodle shih-tzu cross, who lives with us in Suffolk. She is the most annoying and infuriating dog you could ever meet but I love her to bits. She's no Mossop, but she can sit on command."
Do you get homesick, working in Corfu? "My dad comes to Corfu with me, but I do get homesick. My mum, sister and grandparents have come out to visit this year, which has made it a lot easier. I miss my friends though. My parents are make sure I keep my feet on the ground. Obviously that's important, you can't let the job go to your head. The last thing I want is to become a diva!"
What's it like working with Keeley Hawes? "I love Keeley and she's perfect for the role of Louisa. When she first met my mum she told her, 'I'm Milo's real mother!' which was funny. It's like having two families. I had my 14th birthday out in Corfu and it was brilliant to be able to spend it with everyone, they made a big fuss of me."
What's your biggest acting ambition? "I'd love to play James Bond one day. That's my dream, but I think I've got quite a long way to go yet…"
The Durrells continues on ITV this Sunday at 8pm
Get the latest updates, reviews and unmissable series to watch and more!
Thank you for signing up to Whattowatch. You will receive a verification email shortly.
There was a problem. Please refresh the page and try again.