DVD review | Traveller | Billy Cook and David Essex star in a spirited British drama set in the English gypsy community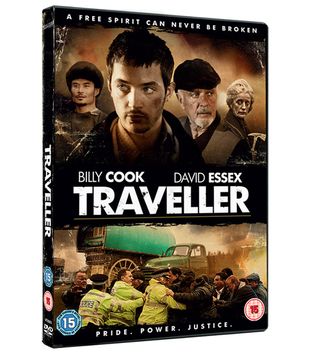 SYNPOSIS Owen McBride (Billy Cook) struggles with his identity as a half-breed Gypsy, but is reluctant to cut his ties with the Traveller world. After getting involved in a botched robbery with his friend O'Connell (Eoin McCarthy), he finds himself on the run from a group of gangsters as well as the police. Finding refuge with horse trainer Blackberry (David Essex) and a philosophical Mongolian horse breaker Tolui (Khan Bonfils), Owen's problems escalate when he forms an unlikely alliance with a female police officer (Kerrie Hayes) and falls for a married gypsy woman (Lois Winstone).
THE LOWDOWN Novelist John F McDonald adapts his 2000 novel Tribe for this British indie drama that marks the feature debut for director Benjamin Johns. It's a spirited affair, featuring a likeable performance from Billy Cook as the good-looking gorja out of sorts with his gypsy kin, and efficient support from Kerrie Hayes and David Essex (who also provides the soundtrack and sings three songs).
While the novel was a darkly comic affair that richly delved into the plight of the much-maligned Traveller community at odds with fitting in with the 21st-century, Johns' feature feels slightly old-fashioned - like a TV drama out of the 1970s. Given that the film was shot on a genuine traveller site with real travellers, you'd think the filmmakers could have put some real gypsy grit and soul in the drama – but instead we have the usual safe stereotypes (look out for the fortune teller with a crystal ball) and a somewhat rose-tinted view of Travellers and their lifestyle. It may not cut it as a gritty thriller, but as a warm-hearted drama about finding one's place in the world, Traveller does have a naive charm all of its own.
David Essex also discusses the film in a BBC Radio 4 discussion on England's Gypsies. (click here to listen to it now).
Available on DVD in the Uk from Metrodome Distibution http://youtube.com/v/1hV3HGsrVTk
Get the latest updates, reviews and unmissable series to watch and more!
Thank you for signing up to Whattowatch. You will receive a verification email shortly.
There was a problem. Please refresh the page and try again.