Ex EastEnders star John Partridge opens up about his battle with testicular cancer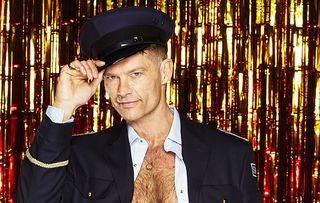 The 46-year-old has kept his cancer story secret for 14 years
Former EastEnders star John Partridge has opened up about his secret battle with testicular cancer, revealing he had never spoken about it until now because he felt "embarrassed".
The 46-year-old, who played Christian Clarke in the long-running soap,  discussed his diagnosis on Good Morning Britain ahead of his performance on ITV's The Real Full Monty, which is raising awareness for cancer and airs on Wednesday (28th March) at 9pm.
It all happened back in 2004, four years before John arrived in Walford, the actor went into hospital to have a hernia removed.
During the procedure, doctors discovered a tumour the size of a grapefruit.
"I had no pain – I didn't realise it was there," he explained to presenters Richard Madeley and Susanna Reid. "Had I not had this surgery for something else, who knows what would have happened."
But he admitted, despite the surgery, he was convinced the disease would come back.
"Then I sort of went into reverse shock about it. Once it had been removed, five months later, I had to have a few lymphs removed as a precaution and then I started to worry and get the fear – what if it comes back? Is it my lifestyle?"
Following the operation, John decided to keep his cancer battle private until now, admitting he didn't even tell his mother because he felt "ashamed" and "embarrassed".
He explained: "As a man, I felt like I had lost part of my sexuality, my masculinity. You remove a testicle, that's a big operation. I have over 120 stitches and there's a scar. It doesn't look particularly pretty for someone like me."
He also feared his battle could have marked the end of his career.
"I make my money going out on the road doing tours, people think of me as being this fit healthy guy, and I thought 'you're not going to take me out on tour if you think I have health concerns' – but I chose not to speak about it."
However, now, 14 years after his diagnosis, John is finally able to openly discuss what he went through.
Explaining his change of heart and why he is taking part in this years charity strip-show, he added: "I'm doing this because I know that there are a lot of other people like me."
"I know there will be lots of other guys that have had this like me and not spoken about it."
Good on you John!
Get the latest updates, reviews and unmissable series to watch and more!
Thank you for signing up to Whattowatch. You will receive a verification email shortly.
There was a problem. Please refresh the page and try again.