Emilia Fox: 'I love working on Silent Witness as much as I did 12 years ago'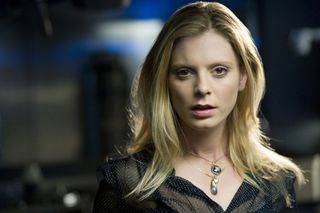 (Image credit: BBC)
BBC1 crime thriller Silent Witness turned 20 in 2016 so we asked its longest serving cast member, Emilia Fox, why it's still going strong
Last year, Silent Witness celebrated an incredible 20 years since it was first broadcast, and early in January the popular crime drama reaches another momentous milestone as it kicks off a 20th series of investigations for the forensic pathologists.
Emilia, 42, plays Dr Nikki Alexander and is the longest-serving cast member, having joined in series eight following Amanda Burton's departure. So who better to offer a forensic analysis of just why Silent Witness has lasted so long?
In between autopsies on location in west London, we caught up with the actress, whose famous relatives in the Fox acting dynasty include dad Edward, uncle James and cousin Laurence, to pick over the bones of one of TV's biggest success stories.
What's the secret of Silent Witness's longevity? "It's not your traditional whodunnit detective show. The actual premise is what's so good about it – the concentration on the dead body and finding out what happened in the last 10 minutes of someone's life.
"Silent Witness has a whole scientific and medical side that has certainly kept me interested. When I first went to a real-life autopsy for research, I was worried I would feel faint and hold up the whole process. But in fact it was riveting watching the work and the dynamic in the room between the pathologist, the police and the other people involved."
The cases are fascinating, but how important are the relationships on the show? "I love the family feel that Silent Witness has always had, and the great relationships on and off set. We have a short-hand when we're acting with each other. You're trying to find moments of drama in between exchanging information about cases. It's all about how to invest some emotion and feeling into proceedings."
Silent Witness first screened in the mid-1990s. Has it moved with the times? "As science and forensic technology advance, we've had to keep up with that. And the issue we open with in the new series is a good example of Silent Witness being a current, relevant series. We kick off with an episode called Identity, which deals with a very topical issue relating to refugees. So we're not just doing made-up whodunnit stuff – we're trying to deal with issues that will provoke debate."
The prosthetics are impressive on this show. Does that make your job a lot easier? "The prosthetics are amazing, and they've opened this series with some of the best we've ever had. The bodies are so real. When you pick up the limbs, they feel the same weight as the limbs of a dead body. They feel cold, you can move the skin, and you've got all the right 'gooey bits'.
"In one episode we have to drill into someone's nasal cavity so, for people who like that sort of thing, there's plenty of it – even though it's the stuff of nightmares, really! When we are doing those scenes, they are so technical and we've got all the medical jargon to remember, but we have real-life pathologists telling us what to do."
You've played Nikki for more than 12 years – what keeps you interested and motivated? "I love the crime genre and always have. I was brought up reading crime fiction such as Miss Marple and Poirot, and I loved Sherlock Holmes – he's my literary hero. So I have a vested interest, and being asked to do this as my job – well, it couldn't be better.
"I love working on Silent Witness as much now as I did when I started 12 years ago – and I always said if I carried on loving it, I would carry on doing it! Also I like playing a character that I know very well because, in some ways, you get a little braver with your performance."
Does it bother you when people say real-life pathologists would never get so involved in police investigations? "People do worry about how you get pathologists doing police work and, yes, of course there's dramatic licence, but it makes it easier for the writers and, as a result, the episodes are broader. There's a really good mix of issue-led episodes, whodunnits, thrillers and action. And having the four of us together has opened that up – forensic science and pathology working side by side enables us to be more of a part of the detective team."
Silent Witness starts on Monday, January 2 at 9pm on BBC1.
Get the latest updates, reviews and unmissable series to watch and more!
Thank you for signing up to Whattowatch. You will receive a verification email shortly.
There was a problem. Please refresh the page and try again.