Emmerdale's Jeff Hordley: 'Cain and Charity have passion and history, it's a recipe for disaster!'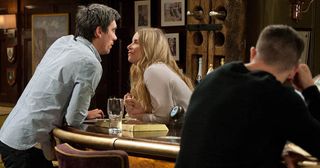 (Image credit: Andrew Boyce)
With his marriage to Moira over, it's all systems go for Cain Dingle and Charity, despite warning words from Chas, Jeff Hordley tells Soaplife…
Cain Dingle is back in Emmerdale and as soon as Charity gets wind that he's returned, she reels him in and suggests they go public, Jeff Hordley, who plays Cain, tells Soaplife.
How does Cain feel about Moira now? "He's devastated, but he has accepted it's all over. He isn't in a good place at all. He's gone on a massive bender because of what has happened with Moira. He wouldn't admit it, but deep down he'd rather get back with her than be with Charity."
What does Cain think when Charity tells him she's been with Ross? "He denies being jealous, but there are always mixed emotions and feelings where Charity's involved. However, in the pub, he confesses to her that he did feel jealous that she was with Ross and they end up kissing and making up."
Does he take any notice of Chas warning him off Charity? "No. It's none of her business. He knows she thinks he should go back to Moira and Charity's a recipe for disaster."
Is Charity a rebound affair? "His feelings are very mixed up. If Moira were to take him back, he'd lean towards her. But there's always been this thing between him and Charity. They have this bond that is Debbie and they were each other's first love at a very young age. There's passion and history there, which is always a recipe for disaster!"
Why does he go public? "Charity is upset when Cain denies their relationship in front of Chas. To make it up to her, he decides to tell Brenda, knowing she's the local gossip. He tells her to keep it under her hat knowing full well it will go viral."
What would Debbie say if she knew her parents were back together? "She'd be like Chas, but 10 times worse. She'd be a strong voice of reason in their ears."
Get the What to Watch Newsletter
The latest updates, reviews and unmissable series to watch and more!